The good news for the Lawrence High girls basketball team on Friday night was that, for the third straight game, LHS made progress in the turnover department.
Photo Gallery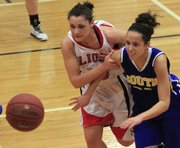 Lawrence High girls vs. Olathe South
The bad news? The Lions couldn't make a shot.
In a game that was decided well before the halftime buzzer sounded, the LHS girls dropped their third straight lopsided loss on Friday, this time to third-ranked Olathe South, 43-15, at home.
LHS made just six shots all night, scored just six points during the first three quarters combined and simply could not match up with a bigger, more fundamentally sound Falcons squad.
"Overall, our energy level wasn't where it needed to be to beat a team like that," LHS coach Nick Wood said.
That's not to say the Lions (1-6) didn't fight. After a sluggish opening couple of minutes, which prompted Wood to call a timeout to try to wake his crew up, the Lions played a rough-and-tumble brand of basketball that made Olathe South uncomfortable. Sure, LHS may have turned it over 24 times, but the Falcons coughed it up 23. Unfortunately for the home team, it seemed like every time they made a hustle play or forced an Olathe South turnover, the Lions immediately turned it back over.
Such bad fortune hurt the flow and rhythm of both teams and made an LHS comeback unlikely.
"Defensively, we did some really good things and disrupted what they wanted to do," Wood said. "But we just weren't able to turn that into anything positive on the offensive end."
LHS outscored Olathe South 9-7 in the final quarter, where Kionna Coleman picked up seven of her team-high nine points.
Bri Anderson, Kylie Seaman and Hailey Belcher scored the only other buckets for LHS, which played its third game in a row without point guard Marissa Pope.
"We knew this little gauntlet was coming," Wood said of playing three highly ranked teams in a row. "And it was a good growing experience for us. Now we have to see how we respond."
LHS will play host to Wyandotte at 7 p.m. next Friday.
Copyright 2018 The Lawrence Journal-World. All rights reserved. This material may not be published, broadcast, rewritten or redistributed. We strive to uphold our values for every story published.