Heading into Friday's Class 6A showdown against second-ranked Olathe South at Lawrence High, the LHS boys basketball team already knew what life was like when senior guard Jake Mosiman went on a scoring spree.
Photo Gallery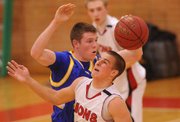 Lawrence High boys vs. Olathe South
Now they know what it's like when he doesn't.
Despite getting just two points from one of their top options, the Lions (6-3) used an all-hands-on-deck offensive approach to pick up their most impressive victory of the season to date, a 48-44 victory against the Falcons in a game LHS led most of the way.
"We know in this league that we're gonna face a lot of good teams and a lot of good coaches and they're going to have a plan for how to stop Jake or how to stop (freshman guard) Justin (Roberts)," LHS coach Mike Lewis said. "We have to counter."
On Friday, the Lions' counter came right after the opening tip, as Lewis' squad raced out to a 15-5 lead and looked like the hungrier team in the opening quarter.
LHS led 17-7 after one and then hit what sophomore Anthony Bonner said Lewis has dubbed "the second-quarter lull." Led by eight points from junior Noah Knight, Olathe South outscored the Lions, 13-2, in the second quarter and, all of a sudden, LHS trailed by a point at halftime. But the break gave the Lions a chance to regroup, and they opened the third quarter the way they opened the game, with fire, tenacity and everybody chipping in on offense.
Eight of the nine LHS players who hit the floor on Friday scored at least one bucket. Bonner led the way with 13 points, while role players Jacob Seratte (eight points on 4-of-5 shooting) and Sterling Fuller (six points on 3-of-3 shooting) helped carry the load while Mosiman and Roberts combined to score just nine points on 4-of-15 shooting.
"We have such good chemistry and we're always trying to work for the best shot for the team," said Bonner, whose biggest contribution Friday night may have been his game-high nine rebounds.
Added Mosiman: "We're all coming from the same place. We want to prove ourselves as a team every time we go out there."
LHS certainly did that on Friday. Maybe even a couple of times. Despite opening up a seven-point lead on Mosiman's only bucket, which came with 5:12 to play in the fourth quarter, the Lions saw this one come down to the wire. Olathe South answered the biggest deficit of the second half for either team with a 9-2 run that tied the game at 44 with just over a minute remaining. Knight (21 points) played a huge role in the Falcons' comeback, but so, too, did the Lions, who turned the ball over too often and could not convert near the rim when they didn't. With the game tied and Roberts having just missed on back-to-back drives to the bucket, the freshman once again played above his grade, making the exact same drive for a bucket and a foul. Roberts missed the free throw, but the floater gave LHS the lead back and helped the Lions remain calm.
"I was a little surprised they didn't play the screen differently, but I was just trying to take whatever came to me," Roberts said. "It was really exciting. I love these types of games."
Olathe South had one final chance to tie when Knight sealed his man perfectly and was fouled on an off-balance layup with three seconds to play, but the close call was followed by two missed free throws — the second one intentionally off the mark — and Bonner coolly cashed two free throws of his own on the other end to seal the victory.
"This was huge," Bonner said. "This was definitely one of our biggest wins. It was crazy."
The undersized Lions, who had been outrebounded badly during recent losses, won the rebounding edge by seven on Friday. In addition, LHS used what Lewis referred to as "scrappy" defense to limit the Falcons to 30 percent shooting from the field, including an ice-cold 19 percent from three-point range.
LHS returns to action Thursday in the Topeka Invitational.
Copyright 2018 The Lawrence Journal-World. All rights reserved. This material may not be published, broadcast, rewritten or redistributed. We strive to uphold our values for every story published.