A one-point lead and an end to a losing streak slipped out of the grasp of Free State High's boys basketball team Friday night in a 52-47 home loss to Olathe Northwest.
Photo Gallery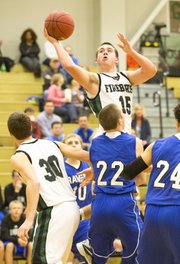 Free State boys vs. Olathe Northwest
The Ravens, who had gone nearly three-and-a-half minutes without scoring, capitalized on a Firebirds turnover in the back court, when ONW sophomore Devan Anctil picked off Cole Moreano's inbounds pass and scored with 47 seconds left, giving Northwest a 48-47 lead. That sparked a 6-0 run for the visitors in the final minute.
Junior Easton Koch hit two free throws with 17 seconds remaining to give the Ravens a 50-47 lead after Free State misfired on offense.
Still, the Firebirds (2-6) had a chance to avoid their sixth straight loss and force overtime with a three-pointer. Junior Khadre Lane, who led the team with 14 points, missed a trey from the left wing. Senior forward Cody Scott chased down the offensive rebound and took the ball to the left corner for another three-point try, which rimmed out. Taylor Davis secured the defensive rebound for ONW with a second left on the clock and hit both ends of his one-and-one free throws to clinch the road victory.
FSHS coach Chuck Law bemoaned his team's late mistakes.
"That's something you've got to be able to do, is get the ball inbounds," the coach said, referring to Anctil's huge steal. "We turn it over and give them a layup. We got a pretty good look the next time down but didn't get it to go in. That's a bitter pill to swallow right there."
Junior Free State guard Reshawn Caro's three-pointer on an assist from Scott with 3:28 to go gave the Firebirds a 47-46 lead, but they never scored again.
"We've just got to execute our plays and be strong with the ball," Caro said after the loss. "I think that's what cost us. And early in the game we got off to a slow start."
The Ravens (3-5) led 13-8 after the first quarter, when Trey Bales contributed six of the team's eight free-throw makes and Koch scored five points. Free throws proved to be a great source of offense for Northwest, which converted 20 of its 22 tries at the foul line. That's where Bales scored eight of his game-high 18 points.
But the Firebirds earned just 10 free-throw attempts, making five.
"If we make free throws and execute our plays," Caro said, "we have the talent to win."
Moreano scored seven of his 10 points in the second quarter, helping FSHS head to halftime tied with the Ravens at 25.
Weston Hack passed out two assists and Caro scored five of his nine points in the third quarter, but Bales drilled two three-pointers, Koch hit another and ONW took a 40-39 lead into the fourth.
Lane scored on an offensive rebound and hit a jumper from the left elbow in the first two-plus minutes of the final period to give Free State a 43-42 lead.
Bales, whom FSHS held to 1-for-7 shooting in the fourth, scored on a drive with 5:25 left, regaining the lead for the Ravens.
"We wanted the rest of the team to beat us, with their role players," Caro said. "We didn't want him to beat us. They ended up doing it and getting out with a win."
Free State plays at the McPherson Invitational beginning on Thursday.
Copyright 2018 The Lawrence Journal-World. All rights reserved. This material may not be published, broadcast, rewritten or redistributed. We strive to uphold our values for every story published.