Kansas City, Mo. — Lawrence High's boys basketball team needed a vigorous fourth quarter Saturday afternoon at Rockhurst. What the Lions got was a feeble final eight minutes and a 73-51 road loss.
Photo Gallery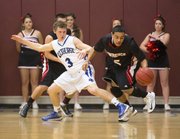 Lawrence High boys baskeball vs. Rockhurst
Already in a 10-point hole after three quarters, LHS failed to match the Hawklets' energy to open the fourth and Rockhurst extended its lead to 19 in less than two minutes.
While the Hawklets (9-2) missed just one of their 10 field-goal attempts in the fourth quarter, Lawrence managed a single basket — a three-pointer from senior shooting guard Jake Mosiman with 2:53 left. Even that did little good, cutting the RHS lead to 69-49. The Lions (4-3) missed their 10 other fourth-quarter attempts.
LHS coach Mike Lewis wondered how much the previous evening's loss at Olathe Northwest took out of his team, but he didn't use back-to-back games as an excuse for Lawrence's late-game struggles.
"The fact of the matter is we're high school boys and we should be able to dig in and compete," Lewis said. "But we ran out of gas. This is the wrong team to do that against."
Rockhurst played Friday night, as well, and didn't show much fatigue. Lions sophomore guard Anthony Bonner, who scored 15 points in a reserve role because Lewis held him out of the starting lineup for a "team issue," said LHS slowed down when that was the last thing it could afford to do.
"There's no excuse you can make," Bonner said. "We couldn't get back on 'D' and they ran a layup line on us."
Bonner and freshman point guard Justin Roberts (19 points, four steals, four assists) were the only Lions to score in double figures. Junior guard Connor Henrichs contributed seven and junior forward Jacob Seratte scored four off the bench. Rockhurst, on the other hand, had four of its five starters score 11 points or more. Senior forward Kyle Wolf led the Hawklets with 22 points and 12 rebounds. The 6-foot-6 senior's presence on the glass helped Rockhurst out-rebound Lawrence 38-17.
That was just one of the issues for Lawrence, Lewis said, in the 22-point loss to a disciplined team.
"Our guys could have done a better job of digging in and just getting that extra rebound and that extra boxout," the coach said, "and being a little bit more competitive around the basket. There was a few bunnies there that we didn't challenge much at all."
Because LHS prefers to play a smaller lineup, often using five guards at once, Bonner said he and his teammates have to change the way they rebound.
"As a team we've got to come together and just be tougher," Bonner said. "Find a guy when the shot goes up and stop watching."
Henrichs started in Bonner's place and scored seven points in the first quarter, helping LHS take an 18-15 lead into the second. But Henrichs picked up his third personal foul with 1:03 left in the first quarter and played sparingly the rest of the game because of foul trouble. He fouled out with 5:08 left in the game. Lewis said Henrichs, who scored 11 off the bench the night before, could have made a difference had he been able to play more.
Rockhurst made 28 of its 50 shot attempts (56 percent) in the win, marking the second straight day an LHS opponent converted more than half of its shots. Lewis said the Lions must respond defensively in the future.
LHS next plays Tuesday at Shawnee Mission Northwest.
Copyright 2018 The Lawrence Journal-World. All rights reserved. This material may not be published, broadcast, rewritten or redistributed. We strive to uphold our values for every story published.