Olathe — Lawrence High's girls basketball players and coaches knew they would miss starting point guard Marissa Pope Friday night at Olathe Northwest. They just didn't know to what extent.
Photo Gallery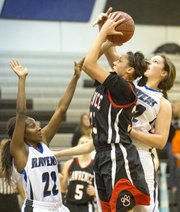 Lawrence High girls basketball vs. Olathe Northwest
With their sophomore ball handler in street clothes — out of the lineup with a right foot injury and only able to contribute by rebounding and passing during warm-ups — the Lions finished with more turnovers (36) than points as the Ravens annihilated LHS, 77-26.
Pope's foot started bothering her before the winter break, Lawrence coach Nick Wood said, so when the pain continued, the staff decided it would be in the point guard's best interest to sit out a few games instead of possibly causing more damage.
In her absence, the Lions (1-4) proved quite turnover-prone against O-Northwest (3-3), ranked No. 9 in Class 6A. Oftentimes in the opening minutes, LHS couldn't get the ball past half court. When they did and tried to run their sets, the Ravens gave them neither driving nor passing angles. Lawrence had missed five shots and given the ball away nine times before junior forward Kionna Coleman ended the Ravens' 16-0, game-opening run with a basket inside on an assist from senior guard Anna Wright.
"When you're turning the ball over that much and you're not getting shots up, it's hard," Wood said.
Lawrence had 12 turnovers in the first quarter alone and ONW took an 18-2 lead into the second quarter. Though the Lions' scoring picked up significantly in the following minutes — Wright and Coleman each made two shots and junior forward Makayla Bell contributed another bucket — their 11 second-quarter turnovers plagued them and the Ravens took a 43-13 lead into halftime.
It was then that Wood told the Lions they had to look at this difficult game as a chance to get better, because they were facing an opponent with three future NCAA Division I players, all seniors. Kelsey Brooks (22 points, six steals) is going to Arkansas, Michaela Crall (14 points, 10 rebounds) is headed to Wisconsin and Jaylah Jackson (11 points) will play at South Dakota.
"They're long and they're athletic. We knew it was coming," Wood said. "We just had to be able to handle that pressure better. We weren't doing the little things we needed to do. ... We were dribbling the ball too much, we weren't faking a pass and making a pass, we weren't setting screens, we weren't getting the ball to the middle and reversing it."
Coleman's 11 points led LHS in the loss. Wright and Bri Anderson each had five rebounds.
LHS plays Tuesday at Shawnee Mission Northwest.
Copyright 2018 The Lawrence Journal-World. All rights reserved. This material may not be published, broadcast, rewritten or redistributed. We strive to uphold our values for every story published.