Olathe — It took one glance at Olathe Northwest's box score after the game Friday night for Lawrence High boys basketball coach Mike Lewis to figure out how his team lost, 70-60, on the road.
Photo Gallery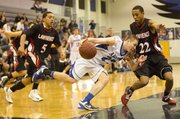 Lawrence High boys basketball vs. Olathe Northwest
The Ravens, led by senior shooting guard guard Trey Bales, rarely missed. Bales scored 15 of his game-high 32 points in the fourth quarter, when ONW went 8-for-9 from the floor and 13-for-14 from the free-throw line.
The final eight minutes were far from an abnormality. The Ravens (2-4), who lost by six to Lawrence in December at the Blue Valley Shootout, made 24 of their 38 field-goal attempts (63 percent) and converted 20 of 23 free-throw tries (87 percent) in their 10-point, Sunflower League victory.
"It's disappointing," Lewis said, "when we had some defensive focuses coming into this game."
The coach described the Lions as "bad" on several defensive possessions when the coaches weren't asking them to do anything complicated on that end of the floor.
"It does come down to stopping your opponent and making some shots," Lewis said. "There were some lulls in the game when we couldn't stop them and they couldn't miss. It doesn't help when we put them on the line 23 times, either."
The letup in LHS offensive production that changed the game came in the second quarter. The Lions (4-2) didn't score a point in the first 4:54 of the period, while ONW went on a 10-0 run to break a 14-all tie.
The game lacked much pace at that point, so the Lions didn't get up and down the floor as quickly as they usually like to. Freshman point guard Justin Roberts, who led LHS with 27 points and four assists, said Lawrence can't allow that to happen.
"We should be able to run our sets and keep playing the way we usually do," Roberts said.
The Lions trailed 41-34 entering the fourth quarter. Despite 12 points in the final eight minutes from Roberts and junior backup guard Connor Henrichs scoring eight of his 11 points in that stretch, Bales helped ONW put Lawrence away.
"We have to do a better job of knowing who their best player is," Roberts said of the LHS defense, "and making sure we're staying on him, so he can't get off his shots."
Lawrence hit 22 of its 49 field goal attempts (45 percent) in the loss, which ended a three-game winning streak. Seniors Austin Abbott and Drake Hofer both scored nine points.
The Lions are back on the court today, with a 4 p.m. game at Kansas City, Mo., Rockhurst.
Copyright 2018 The Lawrence Journal-World. All rights reserved. This material may not be published, broadcast, rewritten or redistributed. We strive to uphold our values for every story published.