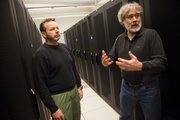 Contact KU and higher ed reporter Sara Shepherd
Have a tip or story idea?
---
More stories
The final thumbprint left by the 2009 federal stimulus on the Kansas University campus is now complete, and researchers say it will open a world of possibilities.
It's the result of a $4.7 million grant from the National Institutes of Health, and it centers on just one remodeled room in Nichols Hall on KU's West Campus. But the lasting impact will be in what can now go in that room: two 50-foot-long cabinets full of computer processors, which could ultimately add up to somewhere around 10,000 times the power of your PC at home.
It's called the Advanced Computing Facility, and it's overseen by KU's Information and Telecommunication Technology Center, which conducts research on information technology and helps researchers across the university who need access to high-powered computers. Researchers began making use of the new room last month.
Perry Alexander, a professor of electrical engineering and computer science who serves as director of the ITTC, said the most difficult task the room has to perform is not providing space for all of the processors that will go there, but keeping them from overheating.
"The simplest way to say it is that it's refrigerators that we put computers in," Alexander said.
And it will keep the machines cool in a much more sophisticated fashion than the facility at Nichols Hall that it will replace. The old room, powered by loud, rumbling electrical equipment, simply shoots cold air up at the computer cabinets from the floor.
The new ACF, in contrast, uses water flowing through its hardware racks to absorb and remove heat from the computers, as well as cold air that blows directly into the racks from below a floor that's been raised by 2 feet. As a result, the cabinets are cool to the touch, despite all the heat generated by the constantly humming processors.
The water then transfers the heat to the Nichols Hall boilers, reducing the building's use of natural gas. And when temperatures outside are cold, the system powers down its chilled compressors and lets Mother Nature do the work, cutting down on energy consumption.
The new room can safely hold about 24,000 processing cores; the old room could only hold about 1,000 without overheating. (A typical personal computer's processor has two or four cores.)
Meanwhile, a new 1,500-kilowatt backup generator and 500-kilowatt uninterruptable power supply protect against power outages, which can potentially scuttle complex computer simulations that have run for weeks or months.
"You think this will never happen, but it can," Alexander said.
It did, several years ago, when a 40-year-old underground power line on the West Campus burned out, leaving Nichols Hall without power for a few days.
The new facility will make high-powered computing available remotely to any department on the Lawrence campus or even the KU Medical Center in Kansas City, Kan.
Among the researchers who will benefit are those at KU's Biodiversity Institute, who conduct computer simulations to model how climate change could cause species to migrate around the world.
Jim Beach, the institute's assistant director of informatics, oversees such simulation work. He said the new high-powered computers will allow researchers to make their simulations as close to lifelike as possible. Instead of just predicting how changing temperatures could cause rabbits to move north, they could now simulate how those changes affect every other organism that eats or is eaten by those rabbits, or what would happen if their northward movement ran into a mountain range.
"We wouldn't have even considered trying it," Beach said, before the new ACF became available.
Departments or offices on campus or at the Med Center can purchase clusters of cores at the ACF to add to the computers to conduct simulations or other work, or several entities can chip in for a single cluster to share.
A dedication ceremony for the new facility was to feature remarks by Provost Jeff Vitter, who is also a distinguished professor of electrical engineering and computer science. But the recent snowstorm forced a postponement, and a new date has not yet been set.
Copyright 2018 The Lawrence Journal-World. All rights reserved. This material may not be published, broadcast, rewritten or redistributed. We strive to uphold our values for every story published.