Photo Gallery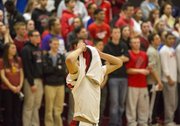 Lawrence High boys basketball vs. Blue Valley West
As much as everyone hates it, it's nearly unavoidable. The last postgame talk of the season almost always turns out to be the most difficult, and Lawrence High's boys basketball team, ranked No. 7 in Class 6A, didn't expect to deal with such a discussion in its home locker room Wednesday night.
However, the Lions, undersized in their sub-state opener like they so often have been, struggled to overcome the length and bulk of Blue Valley West inside. And although LHS fought back and took a one-point lead in the fourth quarter, the Jaguars thwarted Lawrence's state-tournament dreams with a 60-55 victory at LHS.
The finality of the loss left Mike Lewis and his players somber.
"It's just kind of a slap in the face," Lewis said. "All of a sudden, you're done. We don't get to come to practice tomorrow. The reality that it's all over is pretty difficult to deal with."
The Lions (12-9) tied the game at 51 on a baseline drive from sophomore backup guard John Barbee with 3:08 left in the fourth quarter, but the Jaguars (12-9) scored the next six points in a stretch that epitomized how they escaped The Jungle and advanced to a sub-state championship game against Olathe South.
BVW senior power forward Joey Lillis scored on an offensive rebound, and the Jags hit four free throws to build a 57-51 advantage with 26 seconds left. At 6-foot-7, Lillis finished with 16 points and 17 rebounds. Throughout the fourth quarter, BVW kept Lawrence at bay by getting to the foul line, where the Jaguars made nine of their 14 tries.
Lawrence's amped up defensive pressure in the second half provided it with the energy it needed to fight back from a 30-21 halftime deficit. With Austin Abbott, Justin Roberts, Drake Hofer, Jake Mosiman and Anthony Bonner harassing BVW ball-handlers, they forced enough turnovers to make a run but also picked up fouls in droves. The Jags scored 14 of their 30 second-half points at the charity stripe, and it was a trade-off with which Lewis could live.
"(The defensive pressure) also led to that energy, and that offense that comes from your defense," he said.
LHS trapped its foe in the back-court for the first time to open the third quarter, and the attack revved up the Lions' offense. Following an Abbott steal, Mosiman drilled a three-pointer. Then Bonner fed Roberts for another three-point bomb. A Bonner drive earned him two free throws, which he converted. Roberts hit Abbott in transition for a layup at the 5:20 mark of the third, and all of a sudden a 10-0 explosion had the Lions leading, 31-30.
"We just battled," said Roberts, who scored 14 of his game-high 23 points in the second half and dished five assists. "We knew we didn't want to go out this way. Even though we didn't get the win, we thought we might as well go out with a bang and leave it on the court."
Bonner's three-pointer to close the third and a Connor Henrichs layup to open the fourth gave LHS a 46-45 lead, its last of the game, with 6:12 to play.
Said Bonner: "We fought so hard and came up short."
"It's really hard," Mosiman said, "to realize it's your last high school basketball game or last basketball game ever."
Blue Valley West (60)
Connor Kaiser 0-4 10-14 10, Ryan Ralston 4-8 3-5 11, Conley Wilkins 0-2 0-0 0, Blaise Gammon 5-7 2-6 12, Joey Lillis 7-14 2-6 16, Parker Roy 4-6 1-2 11, Elijah Martin 0-0 0-0 0. Totals 20-41 18-33 60.
Lawrence (55)
Jake Mosiman 2-7 0-0 5, Austin Abbott 2-2 0-0 4, Justin Roberts 8-17 5-8 23, Anthony Bonner 5-10 2-3 13, Drake Hofer 0-0 4-4 4, Jacob Seratte 0-1 0-0 0, John Barbee 1-2 0-0 2, Connor Henrichs 1-2 2-2 4, Sterling Fuller 0-1 0-0 0. Totals 19-41 13-17 55.
BV West 16 14 15 15 — 60
Lawrence 11 10 23 11 — 55
Three-point goals: BV West 2-5 (Roy 2); Lawrence 4-17 (Roberts 2, Bonner, Mosiman). Turnovers: BV West 16, Lawrence 10.
Copyright 2018 The Lawrence Journal-World. All rights reserved. This material may not be published, broadcast, rewritten or redistributed. We strive to uphold our values for every story published.