Photo Gallery
Tuesday snow storm
A Tuesday morning, storm left more than 1,500 Douglas County residents without power and streets and trees covered with heavy snow as Lawrence woke up to its second major winter storm in less than a week.
Photo Gallery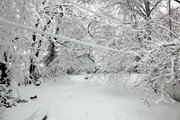 Reader photos
Our loyal readers and residents weathering the storm sent these lovely wintery pictures.
The second snowstorm to move through Lawrence in less than a week closed schools, cut power to some homes and reduced turnout for the city's primary election Tuesday. But the snowfall wasn't as heavy as expected, and the wet snow made for easier work for city road crews.
In all, the city received 5 to 7 inches of snow before the storm ended around noon, according to the National Weather Service, on top of as much as 11 inches from Thursday's storm.
Gusts up to 30 miles per hour will continue to blow snow around and reduce visibility Wednesday morning, National Weather Service meteorologist Jennifer Bowen said. The good news: The NWS forecast shows temperatures rising above freezing by the weekend and into the 40s at the beginning of next week.
City snow plows cleared main roads early in the day Tuesday and then moved onto neighborhood streets during the afternoon. Last week, that didn't happen until the morning after the storm hit.
"It's heavy. It's wet. It's slushy," city of Lawrence spokeswoman Megan Gilliland said of today's snow. "We're actually seeing some water pooling at intersections from the melting."
The wet snow stuck to tree branches and power lines in the morning, leading to cracked and fallen trees and power outages for hundreds in Douglas County. But Westar Energy officials said most power was restored by last night.
A city primary election went on as scheduled, with most polling places open, but few voters braved the morning snow. Many took advantage of advance voting over the past couple of days to cast their ballots. Turnout picked up a bit during the afternoon, but still was reported to be light.
City crews weren't the only ones working hard to clear the snow. An army of landscapers and private contractors were working around clock— using everything from tractors to snowblowers to shovels — to clear parking lots and sidewalks across the city.
Matt Blair, with Lawrence Landscape, had been pushing a snowblower up sidewalks for more than 12 hours, since 1 a.m. Tuesday.
"We work till we get it done," he said over the motor of the snowblower.
By 2:30 p.m., he admitted he was ready to be done with the snow.
"But it's a job," he added.
The effects of the storm were worse outside Lawrence, where heavier accumulations and blowing snow made travel difficult. The heaviest snow from fell in a narrow area that missed Lawrence. Parts of Osage County reported up to 10 inches.
The snow turned major roads such as I-70 and K-10 into snowpack and then slush for much of the day. But authorities reported few accidents or other incidents from the weather.
Elsewhere in Kansas, state officials reported two fatalities on I-70 related to the winter storm that started moving through the state Sunday. One person died in an accident in Ellis County, near Hays, Monday night, and another died Monday morning in Sherman County, near Goodland.
Copyright 2018 The Lawrence Journal-World. All rights reserved. This material may not be published, broadcast, rewritten or redistributed. We strive to uphold our values for every story published.