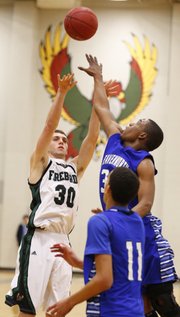 Many basketball teams use their back-ups out of necessity. A starter picks up one too many fouls or someone needs a breather, and the coach looks down the bench for a temporary replacement.
When Free State boys coach Chuck Law sends in his subs, he does so with confidence, often anticipating a Firebirds run courtesy of one or two — or all five — of the non-starters: seniors Cody Scott and Kyle McFarland, juniors Blake Winslow and Innocent Anavberokhai and sophomore Weston Hack.
While a lot of coaches go seven deep or maybe incorporate an eight-man rotation, Law has no problem utilizing all of his top 10 players in critical stretches of every game.
"We've got enough depth that we can do that and keep some guys fresh," Law said, "and give a little bit of a different look with those guys off the bench."
FSHS (8-11) has used its bench as a weapon. If trailing early, Law has no reservations about turning to the bench for a boost. Often, he has sent in five subs at once. In a Jan. 29 victory over Shawnee Mission West, the Firebirds bench played the majority of the first half after the starting unit started slowly.
Scott said the substitutes try to bring extra energy and play stress-free basketball when they're called upon. If bench production lights a fire under a starter, so be it.
"If you do mess up, if you don't try your hardest, there's always someone to come out and take your position," Scott said.
Junior Khadre Lane, who starts alongside juniors Reshawn Caro, Keith Loneker and Cole Moreano and senior Logan Bannister, said the Firebirds don't experience much drop-off in talent when the back-ups enter. What's more, the bench has the ability to get the whole team on track.
"The starting five, we usually start slow. It's bad," Lane admitted. "But they come in every single time, and they always bring energy, no matter what."
Law said the starters have bought in to what the bench provides for Free State.
Winslow said the bench players support each other and the starters, because there is no room for selfishness. The dynamic FSHS has created, the junior swingman added, puts it at a unique advantage.
"It's hard to get a good scouting report on 10 guys instead of seven or eight," Winslow said. "A lot of times coaches don't focus on guys that come off the bench."
Hack gives the Firebirds accurate mid-range shooting; McFarland can slash and finish inside; Scott crashes the offensive glass; no one on the team hustles like Anavberokhai; and Winslow often finds his way to the paint off the dribble. But what Law loves most about his alternates is their ability to make stops.
"That's been our go-to defensive unit," Law said, "because they're so interchangeable that's allowed us to switch a lot of screens and disrupt what teams want to do to us."
The bench will have a different look tonight at FSHS for the City Showdown against Lawrence High (tipoff at 7), because it's Senior Night. The team's five seniors — Scott, McFarland, Bannister, Chris Heller and Wilson Hack — are slated to start. But if the Firebirds need a lift, Law will undoubtedly look to his go-to bench crew.
"They've been a big piece of the puzzle for us all year long," he said.
Copyright 2018 The Lawrence Journal-World. All rights reserved. This material may not be published, broadcast, rewritten or redistributed. We strive to uphold our values for every story published.