Free State High's girls basketball team fought off two forms of bad health Tuesday night.
For a couple stretches at home against Shawnee Mission East, an epidemic of off-the-mark shooting overcame the Firebirds — first their threes weren't falling, then not even point-blank looks would drop. Perhaps worse, Firebirds senior team captain Kennedy Kirkpatrick had to combat an illness that had her feeling awful the past couple days.
Somehow, FSHS found the remedy to all its ailments late, and knocked off the Lancers, 56-45 in overtime.
Photo Gallery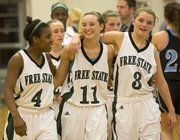 Free State girls vs. Shawnee Mission East
Despite going 1-for-11 from the floor in the second quarter and 2-for-12 in the fourth, Free State took its first lead since the opening minutes of the second quarter when senior Chelsea Casady hit a three-pointer with 48 seconds left in the fourth quarter.
Casady had missed her previous three shots in the fourth, including one from beyond the arc. Luckily for the Firebirds (14-5), the senior wasn't thinking about those misses. She felt confident when Kirkpatrick drove and kicked the ball out to the right wing, because Casady hit all three of her three-pointers in the first quarter and made one of two from downtown in the second.
"Something must've been going right in the first half," Casady said.
FSHS coach Bryan Duncan was pleased to see Casady, who scored a game-high 17 points, give her team a much-needed spark.
"It was great to see her just step up and take the shot and not think about it," Duncan said. "She just reacted and made a big shot."
Kirkpatrick extended the Free State lead to 41-39 by hitting one of her two free throws with 28 seconds left in regulation. But SME senior Grace Pickell hit two at the line seven seconds later to tie the game at 41.
In the final seconds of regulation, Kirkpatrick drove and kicked the ball to junior Scout Wiebe (nine points, seven rebounds) for a potential game-winning three that missed, sending the game to overtime.
Though Kirkpatrick felt miserable while playing sick and struggled offensively (3-for-15 shooting), going scoreless until the 3:36 mark of the third quarter, she willed herself to the paint twice in overtime to convert layups and scored six of her 14 points in the extra period.
Millie Shade (seven points, nine rebounds) made all four of her free throws in overtime and Free State went 9-for-10 at the line in the four-minute stretch. The only time someone missed, Shade snagged the offensive rebound to keep FSHS on offense.
Before fouling out in the final minute of the fourth, senior A'Liyah Rogers scored seven points.
The overall performance seemed far from ideal — Free State went three-crazy at times and finished 7-for-25 from deep — but Duncan felt fortunate his team survived a scare.
"A couple of our senior captains and team leaders (Kirkpatrick and Casady), they both made plays on both ends of the floor, but particularly on offense," the coach said. "And that's what we needed tonight."
Free State plays host to Lawrence Friday for the City Showdown, the regular-season finale for both teams.
Copyright 2018 The Lawrence Journal-World. All rights reserved. This material may not be published, broadcast, rewritten or redistributed. We strive to uphold our values for every story published.