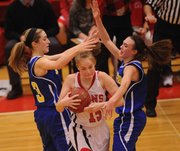 When a scrum for a loose ball breaks out during a Lawrence High girls basketball game, odds are once the whistle blows and bodies are removed from the pile, Lions senior Kylie Seaman will be at the bottom, having just spent the last few seconds trying to wrestle the ball away from an opponent.
Even if she peels herself off the floor with a fresh scratch, bruise or floor burn to add to her collection, Seaman would gladly dive back in for more on the next possession should the opportunity present itself.
A 5-foot-7 storm of energy and grit, Seaman's unique skills, coach Nick Wood said, have proven invaluable for LHS.
"Every day, regardless of whether it's practice or a game, she shows up with a lunch pail ready to work," Wood said. "That's something as a coach that's great. You never have to worry about whether Kylie's gonna show up ready to play. She's gonna compete regardless of the situation."
Seaman fell in love with basketball as a youngster. When her technical skills hadn't caught up with her passion by sixth grade, she adapted and found other ways to impact the game.
"You can always out-tough someone. You can always out-energy someone," Seaman said. "You can always have more energy than the other team."
Defensively, Seaman makes a living flying around the perimeter and pestering LHS opponents. If she can make anything more difficult for the opposing offense, she considers that not just a success, but also leadership through activity. Seaman genuinely wants her teammates to reach their potential and for her play to be a source of inspiration.
"That's the best attribute for me, is to have energy," Seaman said. "If I don't make a shot or I don't get a stop or a steal, that energy carries over to my teammates."
Fellow senior Anna Wright said Seaman's heart and love for the game make her a good defender, and she sparks the team by playing with spirit and being vocal.
"She just has that competitive instinct," Wright said. "She always wants to go hard and wants to win every game. She really does go all-out every game."
Offensively, Seaman has had her moments this season. She scored 15 points in a win at Topeka West last week and hit a critical, buzzer-beating jumper in overtime to extend a game LHS eventually lost on Jan. 26 against Goddard Eisenhower. But Wood said Lawrence (3-15) doesn't count on her for scoring. The coach often asks help defenders to do more than reach a hand in on a driver. Seaman consistently throws her whole body in the way and leads LHS in charges drawn.
Those are the plays Wood wants out of his entire team tonight against Shawnee Mission North and Friday at Free State, as Lawrence closes the regular season.
"She does all those intangible things that you don't find in the stat sheet," Wood said. "Those are even tougher to do, because there's not a whole lot of glory in it."
That's fine with Seaman, never one to keep up with her points during a game. It's easier for her to track the effort she exerts. She'd rather leave a game knowing she shut a girl down than score 20 points.
"I've always played for me," Seaman said of not caring about statistics. "It's not really about what everybody else thinks."
Copyright 2018 The Lawrence Journal-World. All rights reserved. This material may not be published, broadcast, rewritten or redistributed. We strive to uphold our values for every story published.