Photo Gallery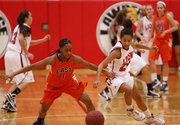 Lawrence High girls basketball v. Olathe East
Images from Friday night's game against Olathe East at Lawrence High School.
A frigid third-quarter and hot free-throw shooting by Olathe East down the stretch proved to be too much to overcome for the Lawrence High girls basketball team, which missed an opportunity to win its second straight game in a season full of long nights.
LHS ultimately fell to the Hawks, 50-41, on Friday at LHS.
Behind two strong and efficient quarters on both ends of the floor, the Lions led 24-19 at the half and appeared to have all kinds of momentum heading into the third quarter. After trailing 17-13 midway through the second quarter, LHS ripped off a 9-0 run to take the lead and steal the momentum. Kylie Seaman brought energy and scored four points during the run, Bri Anderson hit the boards and added two and Jolana Shield drilled a long-range shot to give LHS a 22-13 lead just before the break.
Unfortunately for the Lions (3-15), the second half did not go nearly as well. The Lions were outscored 16-7 in the third quarter and didn't score in the fourth until more than three minutes had run off the clock.
"At halftime, we had a lead, and we talked about coming out in the second half and building on that, but we weren't able to do it," LHS coach Nick Wood said. "That was the difference right there."
Copyright 2018 The Lawrence Journal-World. All rights reserved. This material may not be published, broadcast, rewritten or redistributed. We strive to uphold our values for every story published.