Photo Gallery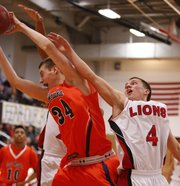 Lawrence High boys basketball v. Olathe East
Images from Friday night's game against Olathe East at Lawrence High School.
The Jungle has not been kind to the Lawrence High boys basketball team during the past couple of weeks, and Friday night against Olathe East, the Lions' inability to tame East's Talbert brothers led to a third-straight home loss, 69-59.
Led by 6-foot-7 junior Ezra Talbert, who scored a game-high 26 points, and his younger brother, 6-6 freshman Josiah, the Hawks took an early 6-5 lead and never trailed, running away from the Lions at a steady pace.
The Talberts scored 20 of East's first 29 points and helped the visitors build leads of 12-8 after one quarter and 32-21 at the half. The lead climbed as high 15 points in the final four minutes and then dipped to six with 32 seconds to play, but each time LHS drew close, the Hawks found a way to regain control. Several times, that came at the free-throw line, where East (12-7) connected on 27 of 39 attempts.
"They had a counter for every run we made," LHS coach Mike Lewis said. "I was a little surprised we never got anything going, but this one just had a bad feeling to it from the start."
Despite battling uphill most of the way, the Lions stayed close early thanks to the long-range shooting of Anthony Bonner (18 points), Jake Mosiman (18) and Justin Roberts (15). But while Lawrence's top trio combined to make eight three-pointers, it also shot just 36 percent from the floor. A big reason for the Lions' struggle was the Hawks' aggressive defensive gameplan.
"Their (2-3) zone really spread us out, and we weren't getting good shots against it," Mosiman said. "We were too far off the three-point line all night."
The Lions (11-7) will face SM North on Tuesday for Senior Night before closing the regular season Friday at Free State.
Copyright 2018 The Lawrence Journal-World. All rights reserved. This material may not be published, broadcast, rewritten or redistributed. We strive to uphold our values for every story published.