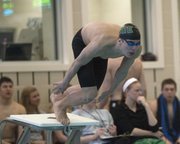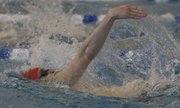 Topeka — Connor Munk made the third and final flip-turn of his 100-yard freestyle race Friday morning at the Class 6A state swimming prelims and saw in front of him a troubling development.
Maize senior Lucas Popp had a significant lead on Munk, a Free State High senior who had been fighting off a cold but didn't plan on letting that keep him from a top-eight finish and spot in today's championship race at Capitol Federal Natatorium.
"Wow, I'm doing really bad right now," Munk thought to himself before swimming the final 25 yards and finishing a distant second in the heat.
The FSHS senior's worries were short-lived. Popp set a state record in the 100 free by finishing in 45.2 seconds, and Munk's eighth-place prelim time of 49.33 secured his championship berth — one of 10 earned by the Firebirds.
Munk, who also qualified seventh in the 100 back, said having Popp one lane over motivated him to swim faster.
"I was like, 'I really need to step up my game right now.' And I ended up right where the better times are," he said. "It was kind of nice, because I had somebody to draft off of a little bit."
Free State junior Canaan Campbell qualified second in the 200 free and 500 free, with Blue Valley Northwest's Jesse Musser posting a slightly better time in each event.
Senior Ben Sloan qualified third in the 100 fly and fifth in the 200 IM.
Sophomore Josh Terrell had the fifth-best time, 1:01.02, in the 100 breast. He also reached a B final with 11th in the 200 IM.
Plus, all three of the FSHS relay teams finished in the top eight. Firebirds Munk, Terrell, Sloan and Jack Ziegler qualified the Firebirds fourth in the 200 medley relay. Sloan, Munk, Ziegler and Campbell qualified seventh in the 400 free relay. And Ziegler, Nolan Stoppel, Hunter Robinson and Campbell qualified eighth, the final berth, in the 200 free relay.
Ziegler also reached the 50 free B final by qualifying 14th.
Lawrence High didn't make the cut for any championship heats. But the Lions' all-senior 200 medley relay team of Adam Edmonds, Patrick Bennett, Nathan Evers and Tyler Bradfield opened the day by qualifying 15th (1:51.05) and assuring LHS of at least one B final.
Later, Edmonds gave Lawrence its only other B finalist, qualifying 15th in the 100 back (57.83).
"When I saw that clock, there's that relief," he said of overcoming brief trepidation after finishing. "The stress, the weight is lifted. It's a good feeling."
State swimming finals are scheduled to begin today at 10:30 a.m.
Copyright 2018 The Lawrence Journal-World. All rights reserved. This material may not be published, broadcast, rewritten or redistributed. We strive to uphold our values for every story published.