Photo Gallery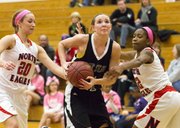 Free State girls vs. Olathe North
Olathe — Free State effectively attacked a 2-3 zone from the outside in, knocking down nine of 22 three-pointers in a 53-42 high school girls basketball victory Friday at Olathe North.
"We were fortunate to hit those threes," Free State coach Bryan Duncan said, "to space them out."
To be fair, most of Free State's shots on the perimeter were open, as the Firebirds moved the ball around the outside to stretch the Eagles' zone.
FSHS pulled away in the second quarter, when A'Liyah Rogers (two), Chelsea Casady and Kennedy Kirkpatrick combined to make four consecutive threes in building a 21-13 advantage.
"We played well when we needed to," Duncan said. "In a high school basketball game with no shot clock and you play against a 2-3 zone, everything's magnified. It feels slower, and it is slower.
"Sometimes, a 10-point lead in that situation is equivalent to a 20-point lead when you're facing man-to-man."
Free State (13-5) will play host to Shawnee Mission East on Tuesday.
Copyright 2018 The Lawrence Journal-World. All rights reserved. This material may not be published, broadcast, rewritten or redistributed. We strive to uphold our values for every story published.