A brutal shooting slump and a series of ball-handling miscues led to an eighth consecutive loss for Lawrence High's girls basketball team Tuesday night against Shawnee Mission South.
Photo Gallery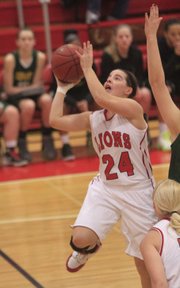 Lawrence High girls basketball vs. SM South
The Lions went more than 23 straight minutes without a field goal, missing all of their tries in both the second and third quarters, in a 51-17 loss at LHS.
A week after playing perhaps its best basketball of the season against Shawnee Mission East's 2-3 zone, Lawrence turned the ball over 22 times against the same half-court defense applied by the Raiders (9-8). The Lions' inability to move the ball from side to side and get to the spots on the floor that would create offense confounded coach Nick Wood.
"All of the sudden we come out and see a 2-3 zone and we let it totally affect us," Wood said after his team made just five of its 28 field goals. "We can't do anything. There was no urgency. Lazy passes. It was frustrating."
Lions senior Kylie Seaman hit a baseline jumper after tracking down an offensive rebound to make it 4-2, SM South, in the opening minutes of the first quarter. However, the Lions managed just two more field-goal attempts the rest of the first quarter and turned the ball over eight times. Heading into the second trailing 18-2, they had twice as many giveaways (eight) as shot attempts (four).
Their struggles actually worsened in the following quarters. LHS (2-14) missed all six of its shots in the second, with five turnovers, and the Raiders led 27-5 at halftime (Emma Kelly made two free throws and Kionna Coleman made one for the home team's three second-quarter points).
In the third, Lawrence misfired on all seven of its shots, and compounded its woes with seven more turnovers. SM South stretched its lead to 43-6 entering the fourth after Coleman's free throw with 1:07 on the clock gave the Lions their only point of the quarter.
Finally, after missing 15 consecutive field goals, a Coleman turn-around jumper off a pass from Marissa Pope gave LHS its first basket since the game's opening minutes. Still, the Raiders led 43-9.
Lawrence converted four of its 11 shots in the fourth. Coleman (seven points) made two, while Bri Anderson and Makayla Bell each added one.
"We can't feel sorry for ourselves," Wood said after the disheartening setback.
The Lions travel to Topeka West tonight for a 7:30 game.
Copyright 2018 The Lawrence Journal-World. All rights reserved. This material may not be published, broadcast, rewritten or redistributed. We strive to uphold our values for every story published.