Shawnee — Free State boys basketball coach Chuck Law didn't mince words when describing his disappointment following the Firebirds' 63-48 loss to Shawnee Mission Northwest on Tuesday night.
Photo Gallery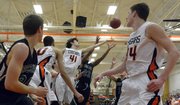 Free State boys basketball vs. SM Northwest
"It was embarrassing," Law said, "and it's a reflection on me."
The coach's biggest frustration was his team's lack of fire.
Though Free State jumped out to an 18-14 first-quarter lead thanks to hot shooting, the Firebirds struggled to get themselves out of an offensive funk the next two quarters. FSHS scored just 14 combined points in the second and third frames to fall behind, 43-32, at the beginning of the fourth quarter.
"We talked about when you go on the road, whether it's Tuesday night in the Sunflower League or it's Tuesday night in the Big 12, it doesn't matter: It's about bringing effort and energy," Law said. "The teams that win are the teams that want to be there. We looked like a team that didn't want to be here tonight and got our butts beat accordingly."
Northwest started the fourth quarter on a 10-2 run, taking a 53-34 lead to put the game out of reach.
The 15-point loss was the second-largest margin of defeat for Free State this season.
"We just got out-physicaled, out-worked, out-fought, out-played, out-coached — out-anything that you want to put after the prefix," Law said.
The Firebirds struggled most on the glass. Northwest finished with more offensive rebounds (nine) than Free State had defensive rebounds (eight).
In addition, the Firebirds' starters combined for just three rebounds.
Northwest also was able to shoot a high percentage by getting good shots. During one stretch in the second and third quarters, five straight Northwest field goals came on shots at the rim.
"I don't know how many layups they shot, either by just penetrating to the basket without us giving much in the way of resistance or them just getting offensive stickbacks," Law said. "They just wanted the game more. Obviously, ultimately, that's a reflection on the coaching staff and me as the head coach."
The Cougars made 62 percent of their field goals (24 of 39).
"A lot of just quick, one or two passes and layup, which is our fault," Free State senior forward Cody Scott said, "because we didn't have our hands up or were just being lazy."
Scott led the Firebirds, scoring 13 points on 5-for-8 shooting with a team-high four rebounds.
Khadre Lane added 12 points on 4-for-7 shooting. All of his points came in the first half.
Free State (7-9) will play at Olathe North on Friday.
Copyright 2018 The Lawrence Journal-World. All rights reserved. This material may not be published, broadcast, rewritten or redistributed. We strive to uphold our values for every story published.