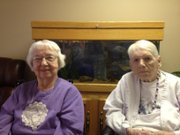 With only one in 5,785 Americans 100 years or older, according to the U.S. Census, reaching the century mark is a rare deal.
But in Eudora two women will turn 100 within a day of each other.
Mae Smith and Geneva McTaggart will celebrate their 100th birthdays on Saturday and Sunday at Medicalodges Eudora, 1415 Maple St.
"(Mae's) a day older than I am," McTaggart said. "Lord willing I'll make it."
Smith shared similar sentiments.
"It's exciting," Smith said. "100, that's getting up there in years. I never thought I'd make it."
Both women were born in 1913 and grew up in the area: McTaggart is from Vinland and Smith from Bonner Springs.
Smith has three children and was married to her husband, Walter C. Smith, for 75 years.
McTaggart and her husband, William Donald McTaggart, has four children.
In their 100 years, both women say they have seen many changes.
Smith said the biggest changes she witnessed were the weather and the design of automobiles. For McTaggart, it was space exploration.
"Who ever dreamed of seeing a man landing on the moon?" she said.
Both women gave similar advice to those looking to achieve their longevity: take it one day at a time.
The two both said they enjoy playing bingo.
"I even got a blackout today," Smith said, mentioning that it might have to do with some birthday luck.
The two also compete in nursing home spelling bees.
"It's not like we ever take a trophy home," McTaggart said. "We just do it for fun."
Copyright 2018 The Lawrence Journal-World. All rights reserved. This material may not be published, broadcast, rewritten or redistributed. We strive to uphold our values for every story published.