A Lawrence mother is searching for her 16-year-old son who ran away from home last week.
Shirley Morriss said her son, Stevie Drake, is a Lawrence High School sophomore and was last seen about 2 p.m. Jan. 31 near Sixth and Kentucky streets. Morriss filed a missing person's report with Lawrence police and created a Facebook page to seek help from the public.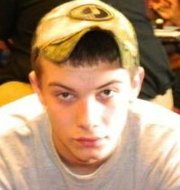 Sgt. Trent McKinley, a Lawrence police spokesman, said officers have checked one location where Morriss suggested her son might be, but did not find him. The department also entered his name into a national police database in case law enforcement elsewhere makes contact with him.
Stevie Drake has gone missing before. In June 2010, he was missing for several days before he was found with family members in Shawnee County.
Morriss said her son is about 5-foot-5, 120 pounds, with short brown hair and brown eyes. Anyone with information is asked to call 785-843-TIPS (8477) or contact police, 785-832-7509.
• To view recent LJWorld crime stories, click here.
• Click here to view the weekly arrest log.
Copyright 2018 The Lawrence Journal-World. All rights reserved. This material may not be published, broadcast, rewritten or redistributed. We strive to uphold our values for every story published.