William Allen White Foundation celebration at KU
Sportswriter Frank Deford will receive the William Allen White Foundation's National Citation and give a talk at 10:30 a.m. Friday in Woodruff Auditorium in the Kansas Union.
The ongoing drought is weighing on the minds of Kansans, though perhaps more in some places than others. And questions about the state's budget linger in the air as well.
That's the word from newspaper editors and publishers who were gathered at Kansas University's Adams Alumni Center on Thursday night. They mingled with KU School of Journalism faculty and other trustees of the William Allen White Foundation at a reception and dinner in honor of Frank Deford, the foundation's national citation honoree.
Publishers said the Midwestern drought that has persisted through winter is on many readers' minds — nowhere more than in rural towns where livelihoods tend to hinge on crop yields and prices.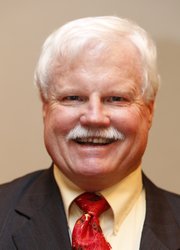 "People are not really hurting yet, but they're starting to worry a lot," said Steve Haynes, who as president of Nor'West Newspapers oversees six different publications in northwest Kansas, including papers in Colby, Oberlin and Goodland.
Around there, the drought is easily issue No. 1 on folks' minds, Haynes said. The area's economy has been solid for the past year or so, he said, but people are concerned what will happen if the dry spell stretches much longer.
They're left to hope that reports from weather watchers that a pattern shift from La Niña to El Niño could portend more moisture.
"Everybody hopes that means something," Haynes said.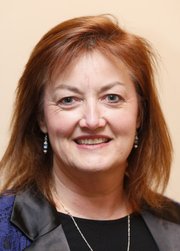 Over in more populous Ottawa, things are a bit different, said Jeanny Sharp, the editor and publisher of the Ottawa Herald.
People are aware that it's dry, Sharp said, but city residents may not be as concerned as those out in the country.
"In our area, it gets kind of taken for granted, because there's still water coming out of the faucet," Sharp said.
In the city, she said, more people are concerned about the state Legislature and what will be the fate of the state budget in the wake of last year's tax cuts.
That's a matter that's getting attention not just in Kansas but across the country.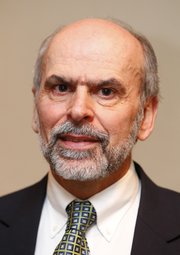 Jerry Seib, a KU alumnus who leads the Wall Street Journal's Washington, D.C., bureau, noted that the Journal had just reported on how Gov. Sam Brownback and his allies in the state Legislature are aiming to serve as a model for cutting taxes and spending in an effort to spark economic growth.
"Whatever you think of it, it's getting a lot of national attention," Seib said.
Brownback finds himself in a different situation than he experienced as a U.S. senator, where he needed 59 colleagues in agreement to get much done. With conservative Republicans controlling both legislative houses, he has the ability to push through policy with efficiency and force.
Other states, and Washington, will be watching as Brownback aims to make Kansas a red-state beacon, Seib said.
"I think there'll be a lot of political reporters traipsing through Topeka the next few years to see how it goes," Seib said.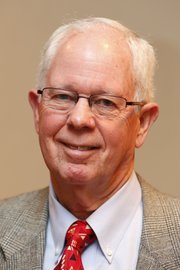 They're also watching down in Winfield, in southern Kansas, said Dave Seaton, who oversees newspapers there and in Arkansas City as chairman of the Winfield Publishing Co.
In Winfield, Seaton said, people wonder if the local economy will benefit from Brownback's tax cuts as much as those in the northeast part of the state. And the people employed by the state prison and Kansas Veterans Home there wonder what the effect of the cuts might be on state agencies' resources.
"Quite a few of them are concerned that the whole thing is not going to work, especially for us," Seaton said.
The town's plentiful public employees also have concerns about the union-related legislation moving through in Topeka, he said.
And, of course, folks there worry about the drought. But at least there were showers on Thursday.
"This rain, light as it is, will ease our anxiety," Seaton said.
Copyright 2018 The Lawrence Journal-World. All rights reserved. This material may not be published, broadcast, rewritten or redistributed. We strive to uphold our values for every story published.