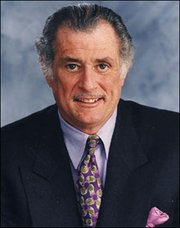 Sportswriter, author and commentator Frank Deford will speak at Kansas University on Friday as he receives the 2013 William Allen White Foundation National Citation.
Deford will be awarded the honor, given each year by trustees of the William Allen White Foundation, at 10:30 a.m. Friday in Woodruff Auditorium at the Kansas Union. He will also speak during the event, which will be free and open to the public.
Deford has written for Sports Illustrated, for which he is now senior contributing writer, since 1962. He has written 18 books, fiction and nonfiction, the latest of which is a memoir released last year, "Over Time: My Life as a Sportswriter." He also provides commentary on NPR's "Morning Edition" each Wednesday and serves as senior correspondent on HBO's "Real Sports with Bryant Gumbel."
Copyright 2018 The Lawrence Journal-World. All rights reserved. This material may not be published, broadcast, rewritten or redistributed. We strive to uphold our values for every story published.