2013 Bleeding Kansas Lecture Series
Upcoming lectures, all at 2 p.m. at Constitution Hall in Lecompton:
• Feb. 10: Kansas' First Territorial Elections, Kris Kobach, Kansas Secretary of State
• Feb 17:The Big Divide: A Complete Guide to Historic and Civil War Sites, Diane Eickhoff and Aaron Barnhart
• Feb. 24: Bleeding Kansas: The Real Start of the Civil War, Robert C. Jones
While performing research on his thesis at Pittsburg State University in 2010, historian Bill Hoyt made an interesting discovery on the Kansas State Historical Society website.
Tucked away in posted historical documents about abolitionist John Brown's son, John Brown, Jr., Hoyt found several pages of numerical data that turned out to be coded love letters to Wealthy Brown, the younger Brown''s wife.
"Oh those are kind of dirty," said Hoyt of reading the letters after spending a night figuring out Brown's code. "It was kind of like the 1860s version of sexting."
Decoding those love letters, and the insight the letters provided about the abolitionist fight in Kansas in the 1860s, was the topic of Hoyt's discussion Sunday during the 2013 Bleeding Kansas Lecture Series.
Hoyt — now a data analyst at Pittsburg State — broke down the "cipher" for about 75 guests Sunday, showing how he turned columns of numbers into words.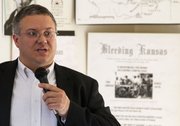 The letters were all written to his wife in the early 1860s as Brown was holed up with troops in various parts of the state.
With a lot of time on his hands, and concern that the letters might fall into the wrong hands, Brown came up with the cipher, which he explained to his wife during a return trip to Ohio.
"It probably made the time pass a little better," said Hoyt, whose finished thesis is actually about one of the younger Brown's lieutenants, George Hoyt, no relation to the researcher.
The coded letters and the key, which was actually taken off the Kansas Historical Society's website because of the letters' "salacious" nature — in Hoyt's words — ultimately portray a man who simply wished to return home after years of traveling and fighting against slavery.
"You could tell he just really missed his wife," Hoyt said.
Copyright 2018 The Lawrence Journal-World. All rights reserved. This material may not be published, broadcast, rewritten or redistributed. We strive to uphold our values for every story published.