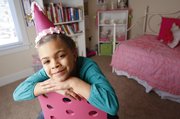 Ivori hasn't been in Lawrence long, but she's already planning to help make a difference in the community.
The Langston Hughes School first-grader moved to town with her family this summer and has turned her seventh birthday party Saturday into a benefit event for Ballard Community Services. She asked partygoers to bring nonperishable donations for the social service agency in lieu of presents, suggesting cereal, diapers and other staples that Ballard provides to families in need.
Seven-year-old Ivori Jones has taken a different approach to celebrating her birthday. Jones along with her parents, Jason and Hillary Jones, have invited all the first-graders at Langston Hughes School to her birthday party and have requested that parents bring nonperishable items to be donated to the Ballard Center rather than traditional birthday gifts.
The party could end up collecting quite a lot of donations — 70 first-graders from Ivori's school were on the guest list. Ivori's mom, Hillary Jones, said the list was long because they haven't been in town long enough for her to get to know everyone in Ivori's class.
"I thought, 'hey, invite them all,'" Jones said.
And since they were inviting 70 kids, she said, it would have been excessive if even a fraction brought gifts.
"That's just too much," Jones said. "She's fine; we just had Christmas. I think it was really cool that she was all about it."
The Joneses are a Navy family just settling into Lawrence after being stationed at the Pearl Harbor naval base in Hawaii. Hillary and her husband, Jason, both recently left the service and found civilian occupations in Lawrence as a dental student and a distribution center manager, respectively. Jones said she's tried to get her kids involved in the community quickly. Her son, Trayden, 11, plays soccer and joined the football team until suffering a season-ending ankle fracture. Ivori plays soccer, too, and is now competing in gymnastics.
Jones said Ivori jumped on board without hesitation when she suggested making the party a donation drive for Ballard. Ivori had heard of these kinds of charitable gestures on television and liked the idea of doing something similar.
Jones said she wanted to encourage her daughter to give to those less fortunate. She asked Ballard what items they could use to help needy families, and the agency gave her a list.
"It's just all those little items we always have in our cupboards that we take for granted," she said. "Like spaghetti sauce, because they get a lot of pasta, but they don't get sauce."
After hosting the party at the indoor recreation center Laugh Out Loud, 1000 Massachusetts St., the Joneses plan to deliver the donations to Ballard on Monday.
And, Jones points out, Ivori is not being deprived of birthday fun. In addition to the party and a new bike, she's received a folding balance beam to use in her gymnastics practice.
On Saturday, Jones appeared to be just as excited about the party as Ivori was.
"It's really cool to see everybody coming together for this," she said.
Copyright 2017 The Lawrence Journal-World. All rights reserved. This material may not be published, broadcast, rewritten or redistributed. We strive to uphold our values for every story published.