Photo Gallery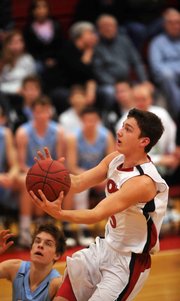 LHS boys vs. SM East
It's not often that two teams outplay, outhustle and outperform their opponents in several areas on the stat sheet and lose, but that's exactly what happened to the Lawrence High boys and girls basketball teams Friday night at LHS.
In a pair of nail-biters that went down to the wire, the girls opened the night with a 54-47 loss to Shawnee Mission East in which the Lancers outscored LHS 7-0 in the final 1:01, and the LHS boys followed with a 55-53 loss that was decided by a jumper with five seconds to play.
"This one's gonna hurt for a while," said LHS sophomore Anthony Bonner, who led the LHS boys with 17 points on 7-of-9 shooting. "We shot better than they did, and we outrebounded them. I'm really proud of our effort. We didn't get this one, but that's just gonna add fuel to our fire."
After opening in a hole, the Lions stormed back behind three first-half three-pointers from senior Jake Mosiman (12 points) to take a 30-23 lead into halftime.
Mosiman's third three-pointer of the night pulled LHS within 23-20 and set the stage for Bonner to dominate the final few minutes of the first half. The 6-foot-1 guard drilled a pair of deep three-pointers, finished strong in transition and even forced a tie-up that gave LHS possession during a four-minute stretch when he looked unstoppable.
Asked about the surge, Bonner credited his teammates for putting him in good positions, something that supported LHS coach Mike Lewis' postgame thoughts perfectly.
"Our guys believe in each other, and they believe in the team concept," Lewis said. "I was really proud of the way they competed tonight and really proud of the way they represented LHS. We lost by two points, but, as their coach, I'll sleep well tonight."
The Lions held the lead from the 2:00 mark of the second quarter until 2:08 remained.
A three-pointer from Chase Hanna followed by a bucket from eventual-hero Zach Schneider put SME up 53-50 with 1:11 to play. Mosiman quickly tied it with his first points of the second half, and that set up the wild finish.
With just 30 seconds left, East attempted to hold for the final shot. The Lions dug in on defense and were content to let them. As East's Connor Knabe drove right, he jumped near the three-point line, leapt in the air with nowhere to go and floated a pass to Schneider over Mosiman's fingertips. Schneider snagged the pass, took two dribbles and drained the game winner.
"An inch more and we would've had it," said LHS senior Austin Abbott, who added seven points on 3-of-4 shooting. "But that was a really fun game, and it was a good diagnostic test to show us what we can be. If we can play with them for four quarters, I think we can play with anybody."
The loss dropped the fifth-ranked Lions to 9-5. No. 2 SM East improved to 12-1.
SM East girls 54, LHS 47
Photo Gallery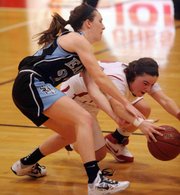 LHS girls vs. SM East
The LHS girls jumped to a 12-6 lead after one quarter and led 25-19 at the break.
That was when things began to go wrong.
"We didn't come out ready to play at the beginning of the third quarter," LHS coach Nick Wood said. "We were too lethargic, and that let 'em creep back into the game."
With the score tied at 33 heading into the final quarter, the Lions, who got 13 points from hot-shooting senior Anna Wright, quickly fell behind 38-33. Instead of folding, they responded with a 7-0 run that put them up 40-38 with 3:47 to play.
LHS (2-11) attacked the Lancers' zone with pinpoint ball movement that led to easy buckets and seemed poised for their first Sunflower League victory of the season. But a cold stretch and a few chaotic moments late left the Lions just short.
Kylie Seaman chipped in nine points and drilled seven of eight free throws.
Copyright 2018 The Lawrence Journal-World. All rights reserved. This material may not be published, broadcast, rewritten or redistributed. We strive to uphold our values for every story published.