Photo Gallery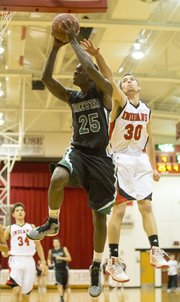 Free State boys vs. Shawnee Mission North
Overland Park — Free State junior Khadre Lane couldn't hold back a huge grin following his team's 69-51 victory over Shawnee Mission North on Friday night.
After scoring 21 points — teammate Kyle McFarland said it might be Lane's "breakout" game — Lane had quite a few reasons to smile.
"I just like winning. It's the same with everybody here," Lane said. "We're all excited. We've lost seven games, so we're kind of tired of that feeling. Every win, we're cherishing it."
In picking up their fourth straight victory, the Firebirds were led by Lane, who showed aggressiveness with pull-up jumpers while also battling hard on the offensive glass.
The 6-foot-4 forward finished 10-for-18 from the floor, tying a team-high with eight rebounds (five offensive).
"That was a great bust-out game for him," Free State coach Chuck Law said. "He's capable of doing that every time out."
Lane was consistent as well, posting 11 points and four rebounds in the first half.
"When he drives, he's hard to stop. I don't think many people can stop him," McFarland said. "He's just so fast, and he can jump so high. He's starting to pick it up these last couple games."
With his team leading 34-28 at halftime, Law challenged his players in the locker room to play with the same aggression that North had shown. The Indians came away with eight offensive rebounds in the first half.
Free State did that and also answered Law's request to be more sound on the defensive end. After a first half where too many Firebirds jumped at ballhandlers — leading to drives and jumpers or layups for North (2-14) — Free State stuck to its principles in the third quarter, locking down during a 16-2 run that opened a 54-37 lead.
"We did some good things defensively in the second half," Law said. "We were so impatient in the first half. If they lifted an eyebrow, we jumped."
Junior Cole Moreano scored 10 points on 4-for-9 shooting, while McFarland also added solid production off the bench. The 6-3 senior contributed nine points on 4-for-4 shooting, adding a pair of steals when he anticipated North passes on the perimeter.
Free State (6-7) will play host to Leavenworth at 7 p.m. Tuesday.
Copyright 2018 The Lawrence Journal-World. All rights reserved. This material may not be published, broadcast, rewritten or redistributed. We strive to uphold our values for every story published.