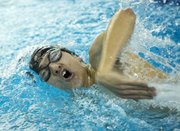 More times than not, when meet officials posted times on the pool-side wall at Lawrence Indoor Aquatic Center Friday night at the Sunflower League boys swimming prelims, Free State High swimmers occupied the No. 1 slot.
The Firebirds were top qualifiers in six of the 11 events as the league's swimmers fought for berths in today's finals, which begin at 12:30 this afternoon on the FSHS campus.
The rewarding night for Free State began with senior Connor Munk, junior Kyle Yoder, senior Ben Sloan and sophomore Nolan Stoppel earning the top spot in the 200 medley relay, and the hits kept on coming. Junior Canaan Campbell was No. 1 in the 200 free and the 500 free. Sloan swam to first-place qualifications in the 200 IM and 100 fly. Finally, Sloan, sophomore Jack Ziegler, Munk and Campbell finished the evening with a top-qualifying time in the 400 free relay.
Race after race, the Firebirds qualified swimmers for today's finals. They'll have at least one representative in every event.
"We did awesome for what we've got," Munk said. "We were definitely happy with our results."
The top six finishers in each event advance to the A final, and Free State secured one of the coveted spots in nine. Munk qualified second to Shawnee Mission East's Zack Holbrook (47.54) in the 100 free and was third in the 100 back. Plus, Free State's 200 free relay team of Ziegler, Stoppel, senior Nick Becker and Campbell were runners up to Shawnee Mission East (1:32.45) by just 0.13 seconds.
Ziegler (ninth, 50 free) reached the B-finals for FSHS, as did Yoder (eighth, 100 breast), who also qualified for state.
Securing finals spots didn't come as easily for Lawrence High. It wasn't until the fifth event of the evening that an LHS individual became a finalist. That's when junior Tim Schraad (11th) and senior Nathan Evers (12th) snagged the last two slots in the 100 fly.
"Right as I dove in," Evers said, "I knew he was gonna be ready for it, and he was gonna be chasing me or beating me, which he did."
As it turned out, none of the Lions broke through to an A-final. Junior Caleb Axlund came closest, qualifying 10th in the 100 back.
Diving prelims and semifinals begin today at 8:30 a.m.
Copyright 2018 The Lawrence Journal-World. All rights reserved. This material may not be published, broadcast, rewritten or redistributed. We strive to uphold our values for every story published.