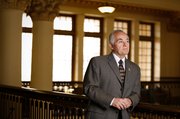 When Fred Rodriguez came to Kansas University in the late 1970s, the idea of a job devoted to the concept of diversity was a new and controversial one, he says.
After 35 years of change at KU and across the country, though, things are different. One of four vice provost positions at KU is centered on making KU's faculty, students and staff as diverse as possible while treating them equally.
Rodriguez is stepping down from that job, vice provost for diversity and equity, at the end of the academic year.
Those words — diversity and equity — have only been part of his job title for the past four years. But the concepts have been at the heart of his work since he joined the School of Education faculty in 1978, tasked with training future teachers on multiculturalism and inclusion.
That was a new concept in the school at the time, he said, and he helped develop courses that are still required of KU education students today.
"When I first arrived here in the School (of Education), we had nothing," Rodriguez said. "There were no courses. There was no emphasis."
His interest in these issues dates back to his childhood, Rodriguez said.
He grew up in a small, western Nebraska town where about one-quarter of the roughly 1,800 people were Mexican-American, he said. Discrimination and segregation were common in his elementary school and elsewhere, he said.
"It was a place where you would go to church, and Mexicans sit on one side, the whites sit on the other side," Rodriguez said.
When he became an elementary teacher, he continued to see minority students who didn't get a fair shake, he said. He hoped that if he started training future teachers, he could help them learn to be open and inclusive.
Rodriguez was the first leader of the School of Education's Professional Development Schools Alliance, which puts future teachers in classrooms at schools with high numbers of minority or low-income children. He also was the first director of KU's Center for Teaching Excellence, which helps faculty from across the university improve their teaching.
Both programs are still going strong after more than 15 years, he said, a point of pride for him.
He was an associate dean in the education school and also served for a year as interim dean, before returning to the faculty.
In 2009, he was hired to serve as KU's top diversity official on an interim basis. The job had been created in 2005 as a half-time position, he said, and many people still weren't aware it existed when he took over.
"This office was just invisible four years ago," Rodriguez said.
He became a vice provost in 2011 when KU's administration was realigned. He now oversees several offices across campus related to multicultural affairs, gender-related issues, accommodations for students, staff and visitors with disabilities and other topics. He leads the Multicultural Scholars Program, as well.
Shawn Alexander, an associate professor of African and African-American studies, said it will be a sad day for KU when Rodriguez retires. Alexander, who's worked with Rodriguez on KU's Langston Hughes Visiting Professor program, said diversity and KU were both close to his heart.
"He sees the University of Kansas as an elite institution, and he wants to better it in any way that he possibly can," Alexander said.
Rodriguez said he's seen KU grow markedly more diverse since he arrived 35 years ago, though he emphasized it still had a lot of room for improvement on recruiting more diverse faculty and students.
"We're making good progress in that area, but I don't want to give the impression that we've arrived," Rodriguez said.
The proportion of minority students at KU has grown steadily over the past 25 years, to 16.7 percent in fall 2012 from 5.9 percent in fall of 1987. The incoming freshman class this past fall contained 21.3 percent minority students, a record.
The percentage of minority faculty has grown to 15.5 percent in fall 2011 from about 9.5 percent in fall 1995.
Though there's still need for improvement, Rodriguez, 63, said he's retiring because he wants to leave on his own terms.
"I've never wanted to get to the point where somebody says, 'Hey, have you ever thought about retiring?' " Rodriguez said.
There are also his wife, two children and two grandchildren, all of whom live in Lawrence.
KU will still be there, too — just a different place than he found when he arrived 35 years ago.
Copyright 2018 The Lawrence Journal-World. All rights reserved. This material may not be published, broadcast, rewritten or redistributed. We strive to uphold our values for every story published.