Photo Gallery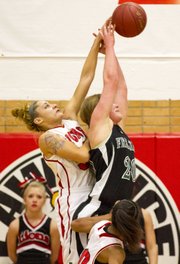 Lawrence High-Free State girls basketball
Playing in her first City Showdown, Free State High girls basketball freshman Madison Piper had shown glimpses of how she might change the game for the Firebirds in a hostile environment at Lawrence High Friday night.
The 5-foot-10 guard even buried a three-pointer to break a tie in the final minute of the third quarter.
But Piper really began giving FSHS the pop it needed to pull off a 60-56 road win against a determined bunch of Lions in the fourth quarter.
She scored nine of her team-leading 18 points in the final eight minutes, and it all began when FSHS senior forward Scout Wiebe helped set the freshman up for an open jumper.
"She's a leader, and she's someone we need on the floor," Piper said of Wiebe, who had missed the last three FSHS games. "She's someone that I personally look for. Even on defense, I look to see what she's doing. She's a leader, and she's awesome to have."
Wiebe scored 16 points of her own, grabbed six rebounds, created havoc on defense with three steals, and went sliding across the floor a couple times, one of her trademarks now in her third year as a varsity contributor.
Coach Bryan Duncan knows Free State (2-4) plays much better basketball when Wiebe is on the floor, because she always battles, and can score, defend and rebound. And the same goes for senior guard Millie Shade, who has been limited at practices because she hasn't felt well, but still pitched in 12 points and five rebounds in the road victory.
"Scout was awesome tonight, and we figured she would be," Duncan said. "Scout really dictated the tempo on both ends of the floor tonight, and you could tell she had played in this game and been a big part of it before."
As LHS (1-4) refused to let its rival run away and win easily in Free State's ninth straight victory in the series, Wiebe hit four free throws in the fourth, junior FSHS guard Adriana Jadlow made a bucket and a free throw, and Shade drove in for a layup and hit a pair from the foul line.
Every time Free State seemed to be ready for a spurt, one of Lawrence's third-year starters, senior forward Kionna Coleman and junior guard Marissa Pope, made a play.
Coleman led the rivalry game with 24 points and nine rebounds, and scored seven in the fourth quarter, even taking her game outside the paint with a three-point make.
Pope added 18 points, and put up seven of those in the final eight minutes.
Lawrence coach Nick Wood praised the pair for how much they've grown as players in the past three years.
"Marissa and Kionna did exactly what we needed them to do. They've played in this game before. They're our leaders out there, and they showed up and played a big-time game," Wood said."They kind of put us on their backs and carried us as long as they could."
FSHS recovered from a sloppy third quarter, and only led by three entering the fourth before hitting 10 of its 15 free throws to close out the win.
Piper said the Firebirds got together and made a decision entering the fourth: "We're not gonna play to their speed, we're gonna play to our speed," Piper shared. "We just made it our game and slowed down and just played our hearts out. And Scout led everyone."
Still, Duncan figured the Lions would make it harder than the Firebirds hoped.
"Coach Wood's got them playing well," Duncan said. "They're turning into a good team."
---
Free State girls 60, Lawrence High 56
Free State (60)
Adriana Jadlow 3-6 2-4 8, Madison Piper 7-11 3-4 18, Scout Wiebe 5-8 6-8 16, Millie Shade 4-10 3-4 12, Maren Kahler 1-2 0-0 2, Lauren Johnson 0-1 0-1 0, Hannah Shoemaker 1-3 2-4 4. Totals 21-41 16-25 60.
Lawrence (56)
Makayla Bell 1-4 0-0 2, Marissa Pope 5-9 8-12 18, Hailey Belcher 0-3 0-0 0, Kionna Coleman 9-22 5-8 24, Jolona Shield 2-10 0-1 6, Jaycie Bishop 1-4 0-0 3, Skylar Drum 1-2 0-0 2, Olivia Lemus 0-1 0-0 0, Matia Finley 0-1 0-0 0, Brook Sumonja 0-1 0-0 0, Nesreen Iskandrani 0-1 1-2 1. Totals 19-54 14-23 56.
Free State 16 14 10 20 — 60
Lawrence 12 12 13 19 — 56
Three-point goals: Free State 2-9 (Piper, Shade); Lawrence 4-21 (Shield 2, Coleman, Bishop). Fouled out: Lawrence, Bell. Turnovers: Free State 22, Lawrence 16.
Copyright 2018 The Lawrence Journal-World. All rights reserved. This material may not be published, broadcast, rewritten or redistributed. We strive to uphold our values for every story published.