Photo Gallery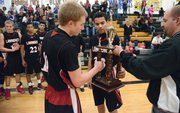 LHS boys vs. Highland Park
Box score
Lawrence (56)
Justin Roberts 7-16 2-2 22, Connor Henrichs 0-2 0-0 0, Price Morgan 3-7 3-3 9, Anthony Bonner 4-8 6-7 16, John Barbee 3-10 0-0 7, Ben Rajewski 0-4 0-0 0, Fred Brou 0-0 0-0 0, Anthony Riley 1-2 0-0 2. Totals 18-49 11-12 56.
Highland Park (60)
Jahmal McMurrray 7-20 0-0 16, Eddie Hunt 0-3 1-2 1, Kameron Clark 2-4 0-6 6, Daniel Kingcannon 3-4 2-2 10, Shaffee Carr 10-16 4-5 24, Jahlil Osby 1-3 0-0 3. Totals 23-50 7-10 60.
Lawrence 22 9 16 9 — 56
Highland Park 10 22 10 18 — 60
Three-point goals Lawrence 9-20 (Roberts 6, Bonner 2, Barbee); Highland Park 7-16 (McMurray 2, Clark 2, Kingcannon 2, Osby). Fouled out: None. Turnovers: Lawrence 7, Highland Park 11.
Stilwell — For all the highlight plays Lawrence High's boys basketball players created Saturday night against Topeka Highland Park, as two of the top teams in the state traded shots and streaks in the Blue Valley Shootout championship game, the Lions would've traded them all in for a boring old bucket or two in the final minutes.
LHS only converted three of its 14 field-goal attempts and didn't get one to fall in the final three-plus minutes in a 60-56 loss to the Runnin' Scots at Blue Valley High.
Highland Park junior Daniel Kingcannon delivered on both ends of his one-and-one free throws with eight seconds left to seal the victory after senior Kameron Clark missed a front-end try with 12 seconds to go and Shaffee Carr grabbed the offensive rebound before Lawrence (3-1, ranked No. 6 in Class 6A) could snag the ball and keep it a one-possession game.
Junior Lions guard Anthony Bonner said those types of plays happened too often in the fourth quarter, a stretch in which LHS shot 21 percent from the field.
"There were a few loose balls we didn't get to," Bonner said, "a few rebounds we missed and maybe a few dumb shots."
When Bonner, sophomore point guard Justin Roberts and junior guard John Barbee drove late in the game, Highland Park's 6-foot-7 Eddie Hunt and 6-foot-5 Shaffee Carr made sure to meet them before they could get all the way to the rim. Lawrence coach Mike Lewis said those plays hurt, too, as his team tried to find high-percentage chances that would extend its lead.
"We didn't finish a few of those," Lewis said. "AB (Bonner) had one that could've been a three-point play, and Justin had three or four that we would've just taken the layup, much less the three-point play."
Roberts found Barbee for a three-pointer that put Highland Park (3-0, No. 1 in 5A) in a 54-49 hole with less than four minutes left, but before long the Lions went from trying to run some time off the clock to not being able to score.
"We were trying to hold the ball, move it around and maybe get to the free-throw line. We attacked, and we just couldn't get our calls," Roberts said. "If we get at least half of those fouls, we win that game with our free throws. But it was a lot of things that kind of led up to that. We can't just blame it on the refs and free throws."
The Lions only scored two more points the rest of the night. With 1:20 left, Roberts made two free throws to end a 9-0 run for the Scots.
After scoring 74 and 69 the previous two nights, Lewis said Lawrence is bound to have some games when it goes cold for stretches.
"I just wish toward the end we would've held on to it a little bit better," the coach said, "and not taken some of the shots that we took and have that possession."
Shot-making never seemed in the realm of possible issues for Lawrence early on. Roberts simply couldn't miss in the first quarter from beyond the three-point arc. After Barbee drove the lane for the Lions' first basket of the night, Roberts drilled back-to-back threes and fed Bonner for a layup, foul and three-point play that put LHS ahead, 11-0.
By the time Roberts buried two more from deep, the Lions led 17-3, and they finished the quarter with 8-for-11 shooting. Roberts made his fifth three-pointer in a row on the first possession of the second quarter, building a 25-10 advantage, and didn't miss a shot until the 1:48 mark of the first half.
"I wanted to keep it through the whole game," Roberts said of his touch, after putting up 22 points on 6-for-9 three-point shooting. "I just kind of lost it a little bit. I blame myself for that, but as a team I think we played well."
All parties involved appreciated the way the two teams went after each other, with Lawrence controlling stretches and Highland Park doing the same with spurts of its own. Bonner, who scored seven of his 16 points in the third, when teammate Price Morgan added six of his nine points, said he loved playing versus the Scots. He just wished LHS didn't have so many empty possessions down the stretch.
"I think it came down to just physical toughness," Bonner said. "They were more physical than us down the stretch and getting to that 50-50 ball."
The Lions will play host to rival Free State on Friday
Copyright 2018 The Lawrence Journal-World. All rights reserved. This material may not be published, broadcast, rewritten or redistributed. We strive to uphold our values for every story published.