Photo Gallery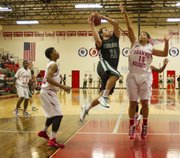 Free State boys vs. Shawnee Heights
Tecumseh — No one would have blamed Free State High's boys basketball players if the multi-skilled Shawnee Heights backcourt caught fire at home Friday night and sent the Firebirds (ranked No. 5 in Class 6A) back to Lawrence with their first loss of the season.
It certainly seemed to be the likely outcome in the first half, as senior guard Jovan Barksdale and every other Thunderbird who stepped on the floor seemed capable of getting to the rim or pulling up to drain a jumper.
However, Free State began defending like mad in the third quarter, while forcing the issue on offense to get points in the paint, and recovered from a 10-point halftime deficit to win, 57-54, at SHHS.
"That was one of those gut-check games," said Firebirds coach Chuck Law, proud of how his players responded. "We talked about a lot of things before the game, and as kids are prone to do, we kind of went out and did everything opposite of what we talked about. But to their credit, they responded and did almost everything that we could've asked of them in the second half."
The final 16 minutes began with senior wing Khadre Lane attacking off the dribble and kicking the ball to fellow senior Cole Moreano for a three-pointer. But less than a minute later, Lane, whistled for a charge, had to head to the bench with three personal fouls. With their most athletic player on the bench, the Firebirds (3-0) didn't allow that to alter their approach.
Senior Blake Winslow scored seven of his 13 points in the third, Moreano added eight more, and every Firebird on the floor made one kind of play or another to knock Shawnee Heights (1-2) out of its comfort zone.
Senior point guard Keith Loneker made sure Winslow and Moreano got the ball in position to score, senior guard Reshawn Caro defended and rebounded, and junior subs Weston Hack and Keegan McKinney contributed to some of the most critical plays in Free State's rally.
Hack, a guard, fed McKinney, a forward, for a three-pointer with 2:04 left in the third quarter that cut the T-birds lead down to 41-40. Less than 30 seconds later, Hack drove and dished to Winslow for a layup and a foul, and the senior converted the three-point play to give FSHS a 43-41 advantage and its first lead of the second half.
If the momentum-swinging play looked a tad awkward, Winslow said it was because he couldn't jump — one of his shoes was falling off at the time. Winslow's strength made the and-one happen once Hack set the table.
"My man left to go help, so (Hack) had two guys on him, and I just kind of found the open spot in the lane, and he got it to me," said Winslow, who finished with 13 points, seven rebounds and three assists.
The Firebirds' approach in the second half didn't come close to resembling the first half, when SHHS built an 18-10 lead in the first quarter and made 13 of its 25 shots.
Said Moreano, who finished with 16 points, four rebounds and three assists: "That's a good team — very athletic and can shoot the crap out of it. I think we were a little stunned at first. The teams we played before were good teams, but we got handled in the first half for the most part. We had to come out and be more aggressive and push through. You've gotta push through that wall when the other team's up. You've gotta hit 'em back."
The Thunderbirds made just eight of their 21 field goals in the second half, and two of their five turnovers in that stretch came when Winslow and McKinney drew charges. Those types of plays, Law said, are what will carry Free State this season.
"We're a pretty tight bunch, I think, and I think that was evident tonight," the coach said. "We could've been finger-pointing and saying, 'You're not doing this.' But there was none of that, and I think they believed at halftime they were gonna come back and win that game."
FSHS took a 45-43 lead into the fourth, and Loneker scored a pair of easy baskets inside, Caro knocked down a three-pointer, Hack scored on an inbounds pass and Moreano added another bucket on a post-up.
Still, SHHS had an opportunity to tie the game with 2.4 seconds on the clock after Barksdale rose up for a three-pointer and drew a foul from Caro. However, the senior guard who led his team with 14 points, missed all three tries and Winslow brought down the defensive board to close out the victory.
The Firebirds play host to Lansing tonight.
---
Free State (57)
Blake Winslow 6-8 1-3 13, Cole Moreano 7-13 0-0 16, Keith Loneker 3-5 0-1 6, Reshawn Caro 3-7 0-0 7, Khadre Lane 3-6 2-5 8, Keegan McKinney 2-4 0-0 5, Weston Hack 1-2 0-0 2, Justin Narcomey 0-0 0-0 0, Tristan Garber 0-0 0-0 0. Totals 25-46 3-8 57.
Shawnee Heights (54)
Braeson Sester 3-10 2-2 9, Malik Stanley 1-2 1-3 3, Kobe Goudeau 2-2 1-1 5, Shawntez Scroggins 5-6 0-2 10, Taymon Grabauskas 1-4 0-0 2, Jovan Barksdale 5-10 2-5 14, Tevin Downing 1-4 2-2 4, Tony Barksdale 3-7 0-0 7. Totals 21-44 8-11 54.
Free State 10 15 20 12 — 57
Shawnee Heights 18 17 8 11 — 54
Three-point goals: Free State 4-12 (Moreano 2, Caro, McKinney); Shawnee Heights 4-14 (J. Barksdale 2, T. Barksdale, Sester). Fouled out: None. Turnovers: Free State 13, Shawnee Heights 7.
Copyright 2018 The Lawrence Journal-World. All rights reserved. This material may not be published, broadcast, rewritten or redistributed. We strive to uphold our values for every story published.