Photo Gallery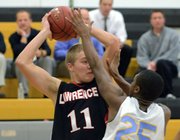 Lawrence High-Grandview boys basketball
Stilwell — Grandview, Mo., had enough talent and size to knock Lawrence High's boys basketball team out of title contention on the very first night of the Blue Valley Shootout, but the Lions' bunch of heady guards and outsized forwards kept a comfortable lead and didn't have to stress in the fourth quarter, either, in a 74-63 victory.
The Lions (2-0) built a double-digit lead in the first quarter Thursday night and never allowed the Bulldogs (2-1) within serious striking distance, as sophomore point guard Justin Roberts, junior guard Anthony Bonner and the rest of the LHS backcourt controlled the offense, working passing and driving angles for high-percentage shots and free throws.
Up 54-45 after the third quarter, Roberts drove and hit a floater for Lawrence's first basket of the fourth, then scored in transition to make it 58-46 with more than five minutes left. Those two buckets proved to be all Lawrence needed. Though the Lions didn't make another shot from the floor (and only took one more from that point on), they cashed in at the free-throw line, hitting 16 of 22 in the final five-plus minutes to seal the victory.
"It was nice to spread the court," Lawrence coach Mike Lewis said, "have a six- or eight-point lead and be able to throw the ball around, and we knew the foul was coming."
Roberts connected on seven of his eight free throws in crunch time, and finished with a game-high 24 points to go with four assists and three steals. That fourth-quarter lead, the point guard said, gave the Lions confidence.
"We're a good free-throw shooting team, so that's really what we relied on at the end," Roberts said after LHS made 25 of their 37 free-throw tries on the night. "We knew (the Bulldogs) would have to foul us because of their deficit."
Senior guard Connor Henrichs hit five of his six freebies in the fourth, sophomore forward Price Morgan made three of four and Bonner, who fouled out with 2:41 left, made one of two.
Behind a strong third quarter from Grandview star shooting guard Tyrone Taylor, who finished with 20 points, the Bulldogs had a chance to close in on Lawrence's lead. But LHS junior guard John Barbee made a runner and a three-pointer from the top of the key in the final minute of the third to push Lawrence's lead back to nine.
Grandview started two 6-foot-8 forwards, Nelson Nweke and Wesley Nosakhare, but the Lions negated their presence with half-court execution. Bonner went 4-for-7 with 15 points, 6-foot-4 Morgan finished 3-for-6 with 13 points and seven rebounds and 5-10 junior guard Ben Rajewski scored eight points off the bench.
"We used our speed and our aggressiveness," Roberts said. "Coach told us to be the aggressors before the game started and that was our main goal, so that really helped us get the win. We knew we had a disadvantage when it came to size."
LHS opened the game hot, hitting nine of its first 13 shots, and that made the relatively easy win possible. Rajewski cashed a pair of three-pointers and Bonner hit another, which set the tone for a 9-for-20 night from downtown.
The Lions only turned the ball over eight times, and Lewis, despite what he considered a choppy start to the game, thought his team showed poise and played smart by making extra passes and forcing GHS to work on the defensive end of the floor.
"That's what we're all about," Lewis said. "It's not a surprise. That's the way we should be, night in and night out."
Lawrence takes on host Blue Valley in a semifinal at 8:30 tonight.
---
Lawrence (74)
Justin Roberts 7-15 7-8 24, Connor Henrichs 0-3 5-8 5, Price Morgan 3-6 7-10 13, Anthony Bonner 4-7 5-6 15, John Barbee 3-4 1-5 9, Ben Rajewski 3-8 0-0 8, Fred Brou 0-2 0-0 0, Anthony Riley 0-0 0-0 0. Totals 20-46 25-37 74.
Grandview, Mo. (63)
Damon King 4-7 2-4 10, Walter Sorrells 1-4 0-0 2, Nelson Nweke 5-7 2-2 12, Tyrone Taylor 8-13 2-3 20, Wesley Nosakhare 5-7 0-1 1-, Freedom Akinmoladun 1-2 0-6 2, Anthony Peterson 0-0 0-0 0, Ronny Johnson 2-2 2-4 6, Nathan Scott 0-1 1-2 1. Totals 26-43 9-21 63.
Lawrence 22 15 17 20 — 74
Grandview 11 18 16 18 — 63
Three-point goals: Lawrence 9-20 (Roberts 3, Rajewski 2, Bonner 2, Barbee 2); Grandview 2-8 (Taylor 2). Fouled out: Lawrence, Bonner; Grandview, Nosakhare, Scott. Turnovers: Lawrence 8, Grandview 14.
Copyright 2018 The Lawrence Journal-World. All rights reserved. This material may not be published, broadcast, rewritten or redistributed. We strive to uphold our values for every story published.