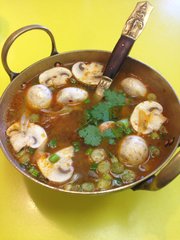 "Yum" is right there in the name. Tom yum is a Thai (and Laos) hot and sour soup served to the table in a large metal pot to ladle this spicy broth concoction into a smaller ceramic bowl, although it is large enough for two. The soup contains chunks of tomato, shrimp or chicken, onions, chives, cilantro, chili pepper and slices of lightly cooked mushroom halves floating on the top.
Traditionally lemongrass, kaffir lime leaves, galangal, and chiles simmer in the broth for about 15 minutes to infuse the flavors into the soup, and fish sauce and other ingredients are added at the very end. The dish arrives fresh to the table in a pot with a decorative wooden ladle.
Where to get it: Thai Siam, 601 Kasold Drive, Suite C101
What you'll pay: $8.99, plus tax
Try it with: If you choose to split this with a friend as an appetizer, try with one of the 24 noodle dishes.
Also on the menu: As a Thai-Chinese food restaurant, the menu includes Asian classics that we have grown accustomed to, such as beef with broccoli, orange chicken, cashew chicken, fried rice, curries, lo mein, as well as popular thai dishes such as pad thai and pad sea-ewe with beef, chicken, pork and tofu. The menu does include a cucumber salad as its only salad option.
Copyright 2018 The Lawrence Journal-World. All rights reserved. This material may not be published, broadcast, rewritten or redistributed. We strive to uphold our values for every story published.