Related document

Indictment ( .PDF )
Eighteen people thought by law enforcement officials to be connected with a Mexican drug cartel have been indicted by a grand jury on suspicion of involvement in a methamphetamine conspiracy that involved using a rural Douglas County home as a manufacturing hub.
Those indicted
Eliser Lopez-Arenas, Raul Vidal Ramirez-Flores, Humberto Rascon-Frias, Jose Eduardo Lopez-Ruiz, Juan Martin Gonzalez-Bartolo, Fidel Carlos Zavala, Ezequiel Olivas-Yanez, Benito Olivas-Yanez, Monica Ortiz-Soto, Miguel Angel Corona-Monjo, Eugenio Garcia-Estrada, Crystal Ann Cook, Stephen Eugene Rowlette, Jose Alejandro Ruiz, Alejandro Santos-Valderama, Miguel Angel Lopez-Garcia, Elsie Romero and Manuel Lopez-Deharo.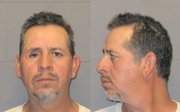 The U.S. Attorney's Office for the District of Kansas has unsealed an indictment dated Dec. 4. Each of the 18 is charged with multiple counts of conspiring to distribute methamphetamine from July 2011 to Dec. 3 of this year. Some also face other charges.
The indictments follow the early August seizure by the Douglas County Drug Enforcement Unit of nearly 25 pounds of methamphetamine from a house at 2174 N. 700 Road in rural Eudora. The indictment alleges that beginning on about May 1, Ezequiel Olivas-Yanez, Monica Ortiz-Soto and Benito Olivas-Yanez began using the residence to distribute methamphetamine.
Police also seized a 9 mm handgun and several thousand dollars in cash in the August raid. During a news conference unveiling the raid, police estimated that the street value of the drugs was nearly $1 million, making it the largest meth bust ever in the Douglas County area.
At the time, Sgt. Trent McKinley, a Lawrence Police Department spokesman, said investigators had "a clear and direct connection to the Mexican drug cartel. People might think this isn't happening, but they're wrong."
Erik Smith, a Drug Enforcement Administration agent in Kansas City, said such a rural operation would not likely have been detected by the average citizen and such operations would allow those involved to work "out of sight, out of mind."
But the residents did not go completely unnoticed to neighbors, nor was the August raid the first appearance by law enforcement on the property. Ezequiel Olivas-Yanez was one of two men arrested and charged with felonies related to a cockfighting operation at the residence. Olivas-Yanez pleaded guilty and was eventually sentenced to probation in 2011 following a four-year investigation that led to the seizure of 118 gamecocks, 48 hens and three chicks, according to the office of Douglas County District Attorney Charles Branson.
Next-door neighbor Peggy Brizendine has lived in the house next to the residence since 1994, she said. She said the most recent residents, whom she has not seen since August, moved into the home in the early 2000s. One day, Brizendine said, she noticed "at least 75" 55-gallon blue plastic barrels on her neighbors' property with chickens tethered to the barrels and just out of reach of one another. She had just sat down for breakfast one morning when she saw a law enforcement officer emerge from under one of her bushes and walk toward her neighbors' home, she said.
On Thursday afternoon, more than a dozen chickens and two dogs still roamed the property and Brizendine said she thought a caretaker still visited to feed the animals. She is also in contact with the sheriff's office to report tallies of how many chickens encroach on her property.
"I'd like to see someone come in and bulldoze the place down to make a clean pasture," she said.
Meanwhile, among the indicted, two men face gun charges.
Miguel Angel Lopez-Garcia, who also goes by the alias "Bombas" and is not a United States citizen, is charged with one count of "possessing firearms in and affecting interstate and foreign commerce." He is accused of possessing a Springfield Armory 9mm semi-automatic pistol, a Ruger SR9 9mm semi-automatic pistol, a Glock .40 caliber semi-automatic pistol, a Taurus PT840 .40 caliber semi-automatic pistol and a Smith & Wesson .40 caliber semi-automatic pistol. Fidel Carlos Zavala also faces charges. He was charged with one count of possessing a Colt Mark IV .380 caliber handgun in furtherance of conspiring to possess and distribute more than 50 grams of meth.
As part of the indictment, the defendants, if convicted, will also be required to forfeit more than $7 million in U.S. currency.
Barry Grissom, U.S. attorney for the District of Kansas, has requested that trial of the case be held in Kansas City, Kan. No court dates have yet been set in the case.
Copyright 2018 The Lawrence Journal-World. All rights reserved. This material may not be published, broadcast, rewritten or redistributed. We strive to uphold our values for every story published.