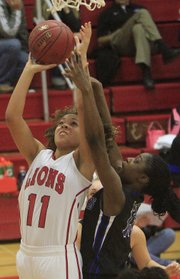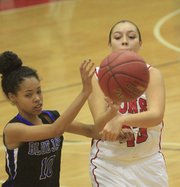 Box score
Junction City (66)
Kealee Rains 2-5 2-2 7, Shadaja Gamble 6-12 3-14 15, Breanna Waterman 1-5 2-2 4, A'Kia Fain 7-13 6-12 21, Kori Kamm 0-5 0-0 0, Abryana Dixon 3-6 2-4 8, Cassidy Meadows 1-3 7-8 9, Allison McKenzie 0-3 1-2 1, Grace Craft 0-1 1-2 1. Totals 20-53 24-46 66.
Lawrence (63)
Makayla Bell 4-14 8-16 16, Marissa Pope 0-6 1-4 1, Matia Finley 1-4 5-10 7, Kionna Coleman 3-7 2-2 8, Jolona Shield 2-11 2-5 8, Olivia Lemus 2-9 2-2 7, Skylar Drum 2-4 2-2 7, Jaycie Bishop 1-5 0-0 2, Brook Sumonja 2-5 0-0 5, Alexis Boyd 1-1 0-1 2, Nesreen Iskandrani 0-0 0-2 0. Totals 18-65 22-44 63.
Junction City 21 16 14 15 — 66
Lawrence 11 24 16 12 — 63
Three-point goals: Junction City 2-6 (Rains, Fain); Lawrence 5-27 (Shield 2, Lemus, Drum, Sumonja). Fouled out: Junction City, Kamm, Meadows; Lawrence, Coleman, Bell, Finley. Turnovers: Junction City 16, Lawrence 17.
One of these nights, Lawrence High's girls basketball team will play in a game that doesn't come down to the final seconds. And one of these nights, the Lions will leave the court victorious.
It just hasn't happened yet.
LHS lost its second straight one-possession game Tuesday night, 66-63, in The Jungle against Junction City.
Despite missing 10 of their first 12 field goals and falling behind by 10 in the first quarter, the Lions (0-2) battled back and had a three-point shot at the buzzer that could have tied the game and forced overtime.
Junior LHS point guard Marissa Pope found freshman Olivia Lemus open near the top of the key with one second left, and Lemus' three bounced off the rim as the final buzzer sounded.
The catch-and-shoot scenario off a sideline in-bounds pass looked better than some of Lawrence's less difficult shots earlier in the fourth quarter, when LHS went 3-for-20 from the floor and 0-for-8 from three-point range.
"In that situation," Lions coach Nick Wood said, "there was one second left, and we're trying any way possible to get a shot up."
Last week, in Lawrence's season opener, Emporia won 47-45, and the Lions missed a potential game-winner in the final seconds.
"We've just got to continue to learn and grow," Wood said, "and keep fighting the fight, and we'll be all right."
The Lions showed that kind of ability in their comeback. They trailed, 37-35, at halftime before taking the lead in the third quarter, when six players scored, including senior guard Jolona Shield, backup freshmen Lemus and Skylar Drum, and sophomore Brook Sumonja. Drum's basket late in the quarter put LHS ahead, 49-41.
"That third quarter, we were playing great," Wood said. "At that moment, we needed to grab the game and take it, do those little things: box out, stop dribble penetration, value the ball on offense. We didn't for about a two-minute stretch, and that let them get back in the game. So that hurt us."
With senior forward Kionna Coleman (eight points, three rebounds and five fouls) in foul trouble throughout the loss to JCHS (1-0), senior forward Makayla Bell asserted herself in the second half. Bell scored 11 of her 16 points in the fourth quarter and accounted for all but one of Lawrence's points in the final eight minutes before fouling out as well with 1:10 to play.
"You want to play," Bell said after a 12-rebound effort. "I was really upset. The one time I try to take a charge, I didn't get it."
She did gather offensive rebounds in bunches in the fourth quarter, though, scoring all three of her late field goals on put-backs and getting to the free-throw line for five more points in second-chance opportunities.
"It was good that we were able to push the defenders down low and get the rebound," Bell said of the LHS frontcourt (Matia Finley added 10 rebounds), "and then go back up strong and get an and-one or two shots."
Junction City's fourth-quarter free-throw shooting (4-for-15) kept Lawrence alive. But senior forward Shadaja Gamble, who had missed seven straight at the foul line in the fourth, made one with 14 seconds left to give JCHS a three-point edge and force Lawrence to take a more challenging shot in the final seconds.
Watching from the bench, Bell thought Lemus just might send the Lions to overtime.
"I mean, there was one second on (the clock)," Bell said of the nail-biting scenario. "We had to get it up fast."
Lawrence will play at Blue Valley Southwest at 7 p.m. Thursday.
Copyright 2018 The Lawrence Journal-World. All rights reserved. This material may not be published, broadcast, rewritten or redistributed. We strive to uphold our values for every story published.