Contact KU and higher ed reporter Sara Shepherd
Have a tip or story idea?
---
More stories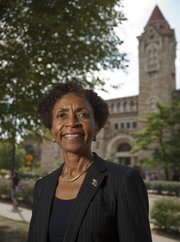 Mindful of where potential students and state budget makers hail from, Kansas University officials have been working to improve KU's visibility and reputation in all parts of the state, including remote rural towns in central and western Kansas.
Historically, KU has drawn much of its student population from northeastern Kansas. But with overall enrollment down for the fifth year in a row, the university has expanded its focus to reach students everywhere. And with a sometimes-strained relationship between the university and state legislature, officials have been highlighting the work they do all across Kansas.
KU vice chancellor of public affairs Tim Caboni in particular has been hitting the road this fall as "part of my continuing education" on the state, he said. A New Orleans native, Caboni came to KU in 2011 from Vanderbilt University in Nashville, Tenn. This fall Caboni has visited far-flung Kansas towns, some with populations smaller than some KU lecture classes.
Caboni said his travels were partly meant to spark "conversations in the leadership of the state's hometowns." That sort of mobile, engaged outreach is not new, but it might be more important to the university than ever. KU's relationship with state representatives and senators has come under strain this year, in part because of recent cuts in higher education.
Tensions have also surfaced around KU journalism professor David Guth, whose twitter post following the Navy Yard shootings in Washington, D.C., inflamed many conservatives and guns-rights supporters, and also prompted some Kansas statehouse officials to say Guth should be fired. Guth returned from administrative leave earlier this fall.
When Kansas State Representative Don Hineman, R-Dighton, first ran for the statehouse in the 2008 election, he joked he would have to take a Jayhawk sticker off his bumper. Hineman grew up in western Kansas but went to KU. Jokes aside, he said, "I don't think there's a negative feeling toward KU out in the country as there is in the statehouse."
Hineman added that the Guth incident was unfortunate, in his view. "It damaged the university's image," he said. "It did raise the ire of those who were already disposed to be an adversary to KU in general."
Recruiting from all parts of the state
Its relationship with Topeka isn't the only state-wide challenge the university faces.
KU Chancellor Bernadette Gray-Little said that since she came aboard in 2009, she and the university have worked to make KU "more visible in parts of the state where we get relatively fewer students." Gray-Little, too, has been traveling to other parts of Kansas, including Dodge City, Garden City and Salina. For Gray-Little, the underlying mission is largely recruitment. "I am told there was a sense in the state that things west were associated with Kansas State," she said.
KU enrollment on Lawrence and Edwards campuses has declined every year for the last five years, from 26,999 in 2008 to 24,435 in 2013. Meanwhile, K-State's enrollment has made gains each year during the same time. This year K-State, with 24,581 students, actually surpassed in enrollment KU's Lawrence and Edwards campuses for the first time in decades.
Josh Doke, a KU graduate from Goodland, a small town in the northwestern corner of Kansas, said he was in a minority of one among his friends who went to KU. In an agricultural part of the state, he said most people he knew went to K-State for college. "A lot of people don't even consider KU an option," he said.
KU has long attracted large numbers of students from urban counties in northeastern Kansas, and that remains true. In 2013 more than 45 percent of Kansas residents attending KU's Lawrence and Edwards campuses came from a single county: Johnson. But administrators don't seem to be taking anything for granted these days. "We're not really willing to cede any part of the state," Gray-Little said.
When they go on the road, KU officials have touted the university's research, educational and other activities. The KU Medical Center, for instance, offers telemedicine services to patients in rural areas of Kansas. Other KU departments have made recent efforts to improve social conditions in rural parts of the state. The KU School of Social Welfare launched a master's program this year in western Kansas to help fill a lack of social workers in rural communities.
Copyright 2018 The Lawrence Journal-World. All rights reserved. This material may not be published, broadcast, rewritten or redistributed. We strive to uphold our values for every story published.