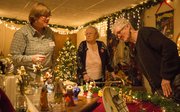 If You Go
When: Dec. 14, 15, 21, 22 and 28 from 1 p.m. to 4 p.m.
Where: the Upper Room at the Centenary United Methodist Church, 245 E. Fourth St.
Cost: Free, but donations are appreciated
The glow of Christmas lights illuminated the hundreds of nativity scenes on display at Centenary United Methodist Church on Sunday.
Cheryl Hickey and her mother, Mary Ann, both of Lawrence, walked slowly around the perimeter of the room, looking closely and carefully at the 400-odd scenes, each pointing out details the other may have missed.
"I can't distinguish a favorite," Cheryl said. "I'm enjoying all of them."
Sunday was the second day of the annual Festival of Nativities, a 19-year-old event that aims to show people the meaning of Christmas. The nativity scenes displayed represent more than 30 countries across five continents. They are made from a variety of materials, and range in size from two feet to two inches tall.
Joy Sodders, who is on the committee for the event, pointed out some of her favorite scenes, most of which were created by international artists.
"It reminds me that the Christian message isn't just for white Anglo-Saxon Protestants," Sodders said. "It's a message that can touch every heart in every nation."
The display continues to grow in number. Usually, Sodders said, there are about 10 new scenes each season. This year, there are more than 20.
Chris Jump, a committee member and major collector for the event, made several new contributions. Jump has been collecting for 17 years, and she buys pieces at estate sales, thrift stores and online. So far, she has amassed more than 75 nativity scenes.
As is routine, Jump was at the festival on Sunday, explaining the origins of her various sets and looking on as people enjoyed them.
"I think people like tradition, and I think people like something Christ-focused," Jump said. "It's a peaceful setting; there are festive lights and spiced cider, and it's something that's not about the commercialism."
The idea for the Festival of Nativities began with Nancy Atchley, who spearheaded its creation after hearing of a similar exhibit located in the Kansas City area.
Atchley is now part of the six-member committee that sets up and tears down the display each year, a feat that takes approximately 500 hours over three months.
"I like seeing the reactions of people when they first come in," Atchley said. "It's a little bit of work to set it up, but it makes it worthwhile when you see people come in, see them and just say, 'Wow.'"
Copyright 2017 The Lawrence Journal-World. All rights reserved. This material may not be published, broadcast, rewritten or redistributed. We strive to uphold our values for every story published.