Photo Gallery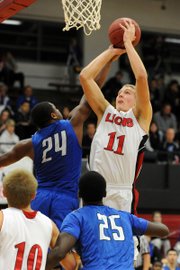 Lawrence-Junction City boys basketball
Behind the wheel, Ben Rajewski will adhere to the rules of the road and always stop for red lights.
On the basketball court, it's a different story.
"He has the green light," Lawrence High basketball coach Mike Lewis said, "and he'll have it all year long."
A unheralded 5-foot-10 junior, Rajewski came off the bench, nailed five three-pointers and scored a game-high 18 points as the Lions opened the season with a 78-41 joyride over Junction City on Friday night in the Lions' gym.
Afterward, Rajewski seemed as amazed by his artillery shots as anyone.
"Sometimes it's like throwing the ball in the ocean," he said with a smile. "It's incredible."
Rajewski came off the bench gunning midway through the first quarter — a 27-point explosion by the Lions — nailing a couple of threes from the corner just 30 seconds apart. Then he went quiet until another pair of threes just 40 seconds apart late in the third quarter. Finally, he finished his first varsity game with a fifth trey midway through the last quarter.
Overall, Rajewski made five long-rangers and missed only three. Not that he remembers the misses.
"You have to have selective amnesia when you're shooting," Rajewski said. "You have to forget when you miss. It's like it never happened."
Rajewski's teammates didn't miss many shots, either, making 30 of 65 attempts for 46.5 percent. Price Morgan, a 6-4 junior making his first varsity start, added 17 points, mostly inside, while junior Anthony Bonner and sophomore Justin Roberts, the acknowledged leading players on this team that features just two seniors, added 14 and 13 points respectively.
"Everybody knows about Anthony and Justin," Lewis said, "but if something or other happens, we have eight or nine guys who can play if one of our top dogs goes down."
In fact, Roberts came up with a cramp 39 seconds into the fourth quarter and didn't return. And 6-1 junior John Barbee, a starter, played only three minutes in the second half because of foul trouble.
"It's going to be a team effort all year long," Lewis said. "Whether someone scores four points or 40 points, we're going to do it as a team."
The Lions figure to receive stronger tests next week during the three-day Blue Valley Shootout.
"If we can do what we did tonight every night, then it'll be fun," Lewis said. "But that's probably not realistic. We'll have to dig down and get better on defense."
Although the Lions won handily in their opener, they forced only 10 turnovers and benefitted from poor Blue Jays shooting. Junction City missed a lot of point-blank shots inside and attempted just eight three-point goals, making three — all in the second half when they were lagging by 30 points or more.
---
Lawrence 78, Junction City 41
JUNCTION CITY (41)
Jonathan Wilds 4 1-2 10, Tanner Lueker 1 0-1 2, Semaj Johnson 2 0-4 4, Danny Thornton 3 0-0 8, Ja'Male Morrow 2 0-0 4, Jordan Lawrence 2 1-2 5, Jake Adkins 3 0-0 6, Reggie Summerall 1 0-0 2. Totals 18 2-9 41.
LAWRENCE (78)
John Barbee 3 1-2 8, Anthony Bonner 5 3-3 14, Price Morgan 7 3-5 17, Justin Roberts 6 1-2 13, Connor Henrichs 0 0-0 0, Ben Rajewski 5 3-3 18, Andrew Riley 3 0-0 6, Fred Brou 1 0-0 2. Totals 30 11-15 78.
Junction City 14 4 15 8 — 41
Lawrence 27 12 23 16 — 78
Three-point goals: Junction City 3-8 (Thornton 2, Wilds). Lawrence 7-21 (Rajewski 5, Barbee, Bonner). Shooting: Junction City 18-53 (34 percent), Lawrence 30-65 (46.2 percent). Turnovers: Junction City 10, Lawrence 8. Total Fouls: Junction City 16, Lawrence 18. Fouled Out: Barbee. Records: Junction City 0-1, Lawrence 1-0).
Copyright 2018 The Lawrence Journal-World. All rights reserved. This material may not be published, broadcast, rewritten or redistributed. We strive to uphold our values for every story published.