Photo Gallery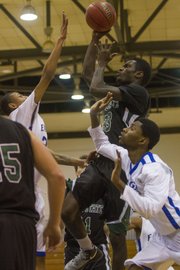 Free State boys at KCMO Central
Box score
Free State (83)
Blake Winslow 1-4 3-6 5, Cole Moreano 4-6 101 10, Keith Loneker 3-3 6-6 12, Reshawn Caro 1-4 3-6 5, Khadre Lane 8-10 7-9 25, Tristan Garber 2-5 0-0 5, Innocent Anavberokhai 0-3 0-2 0, Keegan McKinney 1-2 1-2 3, Justin Narcomey 4-10 3-5 12, Shannon Cordes 1-4 0-0 3, Drew Tochtrop 0-0 1-2 1, Andrew Keating 1-1 0-0 2. Totals 26-52 25-39 83.
Central (63)
Lamar Brown 9-17 11-14 29, Leon Fields 4-10 1-2 10, Hollywood Hayes 1-4 2-2 4, Demitrius Wilson 2-2 2-2 6, Alonzo Wright 1-1 0-0 2, Nate Carruth 1-3 0-1 2, Malik Smith 0-4 0-0 0, Lonnie Boston 0-2 0-0 0, Enzikiel Dillard 2-4 1-2 5, Dominique Thomas 0-1 0-0 0, James Tucker 2-4 1-2 5. Totals 22-52 18-25 63.
Free State 21 26 18 18 — 83
Central 18 11 9 25 — 63
Three-point goals: Free State 6-16 (Lane 2, Moreano, Garber, Narcomey, Cordes); Central 1-8 (Fields). Turnovers: Free State 15, Central 22.
-->
-->
It was an offseason basketball conversation that prompted the change. Goodbye, No. 25 jersey. Hello, No. 33.
Free State High senior swingman Khadre Lane and his father sat together, having a hoops heart-to-heart. Bobby told his son he needed to play more aggressively this year and get to the basket more instead of settling for jumpers.
"Who do you think is a player that plays like that?" Khadre asked.
Bobby didn't hesitate: "Marcus Smart."
Khadre wore the Oklahoma State star's number for the first time Thursday night at the Interscholastic League Fieldhouse, where the Firebirds opened their season against Kansas City, Mo., Central, with an 83-63 victory.
"It worked out pretty well today," Lane said after scoring 25 points on 8-for-10 shooting.
Lane poured in 13 points in the first quarter alone. After scoring his first eight points on layups and free throws, he spotted up for a three and knocked it down to tie the game at 18. Less than a minute later, he got out in transition for a rim-rocking slam dunk that wowed the home crowd.
The Firebirds (1-0) began the second quarter with a second Lane three-pointer, and then fellow senior forward Cole Moreano (10 points, four steals) drained one from behind the arc to cap a 12-0 FSHS run, which put the visitors ahead by nine.
"I think the first quarter was just kind of us waking up and getting back into it," Moreano said, "but whenever Khadre gets going, we can all feed off that."
While Lane carried the load in the opening quarter, seven Firebirds scored in the second, with Blake Winslow and Reshawn Caro getting to the free-throw line, Keith Loneker scoring from the floor and at the charity stripe and subs Tristan Garber and Justin Narcomey each connecting from downtown.
It all stemmed from Lane, who made seven of his nine free throws and grabbed five boards.
"He's much more aggressive than he was," Moreano said. "I think last year, being his first on the team, he was a little timid. It's his senior year now, and he's a lot more aggressive."
Once Central guard Lamar Brown (game-high 29 points) found his groove in the first quarter, FSHS trailed by three. Lane liked how the Firebirds responded in the minutes to come, as they built a 47-29 halftime advantage.
"We had a stretch of making a lot of shots just because our energy was higher," Lane said, adding Free State needs to start games in that fashion.
That would please coach Chuck Law, who saw some things he liked in the win, including senior guard Loneker's 12-point, four-assist night that included 3-for-3 shooting from the field and 6-for-6 accuracy at the foul line.
But the defense and rebounding Law wanted were absent more often than present. Good thing Central allowed FSHS to hit 26 of its 52 field goals (50 percent). Law told the Firebirds during Wednesday's practice that shooting can make up for a multitude of sins.
"Apparently, they took it to heart," Law said, "because they sinned all over the court, not playing any defense and not blocking anybody out and letting the other team get offensive rebound after offensive rebound. But fortunately we made enough baskets to win."
Making his varsity debut, Narcomey, a junior, scored 12 points off the bench, so there were positives for the Firebirds to bring back with them to Lawrence, too.
"The only thing I take away negative from this game," Law said, "is the mistakes that we made were not the kind of mistakes that were just first-game jitters."
Copyright 2018 The Lawrence Journal-World. All rights reserved. This material may not be published, broadcast, rewritten or redistributed. We strive to uphold our values for every story published.