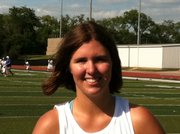 Few outside the school ever stop to wonder how the water bottles that the Free State High football players draw on during their workouts under sizzling suns such as Wednesday afternoon's stay filled.
"A water bottle is missing," senior manager of the Firebirds football team Annie Kisner said with a sense of urgency, her eyes darting in every direction.
Kisner takes very seriously such disruptions in the order she helps to create. Keeping football players hydrated, putting all of their equipment in the right place at the right time during practice and game night is what she does, and by all accounts she does it well.
Kisner's claim to fame: She said she became the first ball girl in Free State football history at the age of 8. She hasn't left the team since, earning a promotion to team-manager status during her freshman year. From Christian Ballard and the Murphy twins to Broadway Joe Dineen, Kisner has seen it all. During her long tenure assisting the Firebirds, she also served as team manager of the Southwest Junior High football team, the Free State High basketball team since freshman year, and for two years she served in a similar role for the baseball team.
Discipline is the thread that connects all the jobs — vice principal, athletic director, baseball coach — Mike Hill performs at Free State. The former Lawrence High nose tackle usually sports an intense expression that some find intimidating. Not Annie. She wanted to be manager of the baseball team, so she walked up to the AD after a football game her freshman year, introduced herself to him and asked if she could become the team manager.
When she was 8, Annie attended all the Free State boys varsity basketball games and recorded statistics. She showed them to coach Chuck Law, who shared them with his players. Law also visited her at her school to thank her and have lunch with her.
"I don't think she has ever even missed a practice," Law said. "Whatever time we get going on a Saturday morning, she's there. It's her thing. She loves it. She's a stalwart. She's been a big part of our program."
Two years ago, when the team made a road trip to McPherson for a multi-day tournament that required a hotel stay, Law found out who was boss.
"I didn't think her parents would want her to be the only girl on a trip with a bunch of boys, so I told Annie she wasn't going to be on the trip," Law said. "Well, when Annie has her mind set on something, it doesn't matter what you think."
With permission from Annie's parents, including her mother, who also made the trip, Annie was there to collect the basketballs and dispense the water bottles.
"Annie, in no uncertain terms, made it clear to me she was going on the trip," Law said.
Firebirds football coach Bob Lisher said he never has to worry about everything being in its place with Annie and the three other managers she oversees on hand.
"She does a great job for us," Lisher said. "We're really going to miss her after this year."
At the end of football practice, Annie dumps the water coolers, gets everything off the field and on Thursdays hands out the game jerseys and pants. Then what?
"Then I go to Alvamar and work there, cleaning carts, cleaning golf clubs and picking up the range," she said. "Then I go home, do homework, take a shower and go to bed."
Her favorite sport to play?
"Golf is my main sport," she said.
How often does she play?
"Whenever I'm not working," she said. "So rarely."
At least all her hard work on behalf of the Free State athletic department does not go unnoticed by the athletes. I mean, they are good about saying thank you, right?
"No," Annie said. "Sometimes. They've gotten better, but no. No. No. The senior boys have gotten better over the years, but it's a thankless job, definitely."
At once thankless and so priceless she never misses a day of work on behalf of the Firebirds, who will miss her when she's gone and pursuing a degree in accounting at Washburn University.
Copyright 2018 The Lawrence Journal-World. All rights reserved. This material may not be published, broadcast, rewritten or redistributed. We strive to uphold our values for every story published.