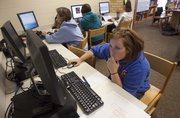 Neal Kingston sometimes compares the research project he's working on to Google Earth. Or perhaps the educational equivalent of mapping the human genome.
And like those breakthroughs that revolutionized cartography and genetics, Kingston says the work by his team at Kansas University's Center for Educational Testing and Evaluation could revolutionize the field of teaching and assessments.
The project is to develop what's called a Dynamic Learning Map — a kind of graphic depiction of all the things a student is supposed to learn, in successive order, in the subjects of English language arts and mathematics.
With that, the team at CETE can then develop a new kind of assessment that will enable teachers to figure out exactly what things their students have or haven't learned, and then tailor their instruction to fill in the gaps and get the students back up to speed.
"I like to compare it to Google Earth, especially since Google Earth was invented here in Lawrence, Kansas," Kingston said.
At a recent demonstration, Kingston and his team unveiled a printout of a partially completed diagrammatic map. It stretched 30 feet across and six feet high, and even at that level of enlargement they had to use tiny 6-point type to squeeze in all the information.
"Our thought is that you could take this giant map — for math, we have over 2,000 things that we call 'nodes,' different things that children need to learn — and for each one, as they master it, let's say we color it in green, and for each one they don't know, let's say we color it in red," Kingston said. "And maybe we have some shades in between, because maybe they have some partial knowledge, or are perhaps on the path of learning these things."
With that information stored on a computer, he said, users can zoom in or out, just as with Google Earth, to see whatever level of detail they need. At a very high level, they can see whether the student is essentially working at grade level. But by zooming in, they can see exactly where a student is having trouble and trace back to the precursor knowledge or skill the student lacks and which is preventing him or her from moving forward.
Kingston's work is being funded with a $22 million grant from the U.S. Department of Education, one of the largest research grants in KU history. Kingston said the team includes 25 to 30 KU researchers, plus three researchers from the University of North Carolina School of Medicine and a Charleston, W.Va.-based educational organization, Edvantia.
Kingston said the project will be ready to deploy in the 2014-15 school year, when 46 states will fully implement the new Common Core standards in reading and math, and give yearly statewide assessments to measure student progress according to those standards.
Several organizations are currently developing tests to go along with those standards. Kansas is working with a group called the Smarter Balanced Assessment Consortium. The nonprofit education company Achieve is working on a different kind of test, as is the for-profit company ACT.
"Their Common Core tests — which are wonderful steps forward compared to what has existed before them — are still 30-year-old technology," Kingston said. "We're trying to take a dramatic leap forward, and we're in a better position to be able to do so than they are."
Kingston said his team is working with a group of 14 states to design tests specifically for students with significant cognitive disabilities, those who take what are called the "alternative tests."
"But the learning map itself applies to all students," Kingston said. "We are only building out the assessment for those students who have the most significant learning needs."
Eventually, he said, the group hopes to develop tests that could be used for any student at any grade level.
Copyright 2018 The Lawrence Journal-World. All rights reserved. This material may not be published, broadcast, rewritten or redistributed. We strive to uphold our values for every story published.