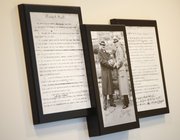 James Naismith's original "Rules of Basket Ball" will be going on display for members of the community to view on the Kansas University campus – but not for a while.
Construction of the DeBruce Center, the new student center that is being designed specifically to contain and display the historic document, is expected to begin next year, according to KU Endowment Association President Dale Seuferling.
"The uniqueness of what the center will do in terms of housing such a rare document such as this, and then creating a very public space on campus for all audiences to use, is a unique challenge for planning and design, and that's the stage we're at right now," Seuferling said.
The rules were purchased for $4.3 million in a 2010 auction by KU alumnus David Booth and his wife, Suzanne Deal Booth. Seuferling said the couple offered to display the document at the university as long as there was a plan for how the rules would be displayed and how they would serve as an attraction.
The KU Endowment Association announced in April that the new student center would be named the DeBruce Center, after Paul and Katherine DeBruce, two 1973 KU graduates, who were the chief donors for the building.
The university has raised $14 million of the $18 million needed to build the center; the rest will be raised from private donors.
The DeBruce Center will connect with the northeast corner of Allen Fieldhouse directly at the second floor concourse level of the fieldhouse. The Booth Hall exhibits will extend into the second floor concourse of Allen Fieldhouse and continue into the DeBruce Center with the Naismith Rules of Basket Ball exhibit.
"It's really a special space and it (will) be designed to be compatible with Allen Fieldhouse," Seuferling said.
Designing the area where the rules are to be displayed is one of the challenges in planning the complex. Because it is an old and important document, it requires special environmental control, Seuferling said. Architects working on the project hired a special design consultant to create a display that provides both a safe and secure environment and access for the public to view it.
Meeting spaces, special events space and dining facilities also will be included in the new center, so it will serve daily operations of the university in addition to being open during athletic events. Seuferling said he expects the new center to not only benefit the KU community, but the Lawrence community as well, especially on game days at Allen Fieldhouse.
"The parking garage makes it very accessible for the public," Seuferling said. "It will be a new highly vibrant hub of activity. People will say, 'Meet me at the DeBruce Center.'"
Copyright 2018 The Lawrence Journal-World. All rights reserved. This material may not be published, broadcast, rewritten or redistributed. We strive to uphold our values for every story published.