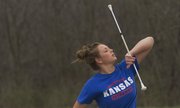 When the Kansas University marching band takes the field at Memorial Stadium during halftime of a football game, it's not alone; KU's baton twirler is also on the field to supplement the band's performance.
While the group of women who have been KU twirlers is small, their excellence and talent are huge.
"We have a really strong tradition of having twirlers," former twirler Jennifer Hubbard said. "We look for people who have placed nationally or someone who is an advanced-level twirler."
Hubbard, who twirled for KU from 2005 to 2009, picked the current twirler for the university, junior Shannon Livengood, and Hubbard was picked by her predecessor. As with the tradition of being some of the nation's best twirlers, the twirlers also have a tradition of auditioning their own replacement.
"We have only had one twirler or no twirler; it's not necessary," Hubbard said. "If we don't find somebody, we just don't have a twirler that year."
During the 2009-2010 school year, for instance, the school was without a twirler because Hubbard didn't think the twirlers who auditioned would be right for the university.
"The twirler should definitely be someone willing to put in the work, and put in the time, and have an appreciation for music," she said.
Skills and presentation are an important part of being a twirler for KU, but Hubbard said the most important characteristics involve the twirler's personality. She must be a good role model for the fans, especially little girls, she should be a leader and friend to her fellow marching band members, and she must have the discipline to choreograph and perform without a coach.
"Whoever wants to be the next twirler should know that the time you're actually seen on the field … that's such a small part of the job," Hubbard said.
The twirlers are responsible for choreographing their own routines and scheduling any performances aside from those they perform with the marching band. Livengood has performed at soccer, football and basketball games, as well as at parades and elementary schools. She also competes in twirling competitions across the nation. This spring, she won the Collegiate National Championship.
Her goal is to raise awareness of the program at KU and possibly start a scholarship program.
"I really want to make it more known as a whole so people want to try out," Livengood said.
Although she only has two years left as a twirler at KU, replacing herself hasn't crossed her mind.
"It's crazy for me to think I'm already half done," Livengood said. "If I came back to a game and watched someone else, it'll be weird."
Copyright 2018 The Lawrence Journal-World. All rights reserved. This material may not be published, broadcast, rewritten or redistributed. We strive to uphold our values for every story published.