The gymnastics teams at Lawrence and Free State high schools might finally have a long-term coaching solution.
This summer the school district named Brooke Kissinger as head coach of the programs, making her the fourth person to hold the dual position in the past four seasons — despite Free State winning the state championship in 2011 and finishing second in 2012.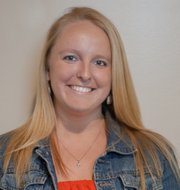 FSHS athletic director Mike Hill admitted the district has encountered bad luck of late, in terms of hiring someone able to stick with the gymnastics programs.
"To find somebody qualified to do this is a difficult endeavor. It's an unfortunate situation where every person has had something come up that takes them away," Hill said. "That's not something we want or think is good for the girls in the program."
Kissinger, who competed for the gymnastics team at Shawnee Mission Northwest from 2004-07 before attending Kansas University, became aware of the coaching vacancy at LHS and FSHS this past spring, when she coached girls divers at both schools.
"That was my high school sport," she said of gymnastics, "so I wanted to get into it."
A first-year math instructor at Lawrence High, Kissinger identified the floor routine as her strongest event when she competed. In those days, Lawrence won the state championship three straight seasons, from 2004 to 2006.
"This district, for as long as I can remember, has had a strong team," Kissinger said. "I just hope to keep it alive and keep it going."
The new coach thinks she will have the chance to work with a strong pool of athletes this season, too, once practice begins Monday.
"I'm ready. I'm excited that the girls have high expectations for themselves," she said. "That makes my job easier."
When Kissinger took over, she didn't know that three different coaches had led the programs the past three years, but she guessed working in a niche sport that not as many people know about might have something to do with it.
As for Kissinger, the recent KU graduate targeted Lawrence as the place she wanted to live and work, and she sees herself sticking around for the foreseeable future.
"I want to coach gymnastics and be in the Lawrence school district as long as possible," she said. "As long as they have the sport and I'm teaching here, I plan on doing it."
That is what the district's athletic directors want to hear.
Said Hill: "That should help give the girls some consistency."
Copyright 2018 The Lawrence Journal-World. All rights reserved. This material may not be published, broadcast, rewritten or redistributed. We strive to uphold our values for every story published.