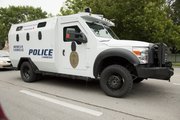 The Lawrence Police Department's newest set of wheels has arrived, and has started making appearances around town.
It's hard to miss: a shiny new armored truck with bulletproof windows and what looks like a battering ram on the front bumper. Designed for confronting armed criminals and rescuing people exposed to gunfire, this vehicle usually won't show up in your neighborhood unless something serious is happening.
The price tag is serious, too: $152,500.
The city bought the truck with federal dollars after winning a Homeland Security grant last fall, and Lawrence police received it earlier this year. The department is one of many across the country to take advantage of the federal budget to buy an armored vehicle that the city might not otherwise be able to afford. It started rolling down a city streets a few weeks ago, after police finished detailing it and preparing it for duty.
When the purchase was announced last year, the words "armored vehicle" conjured up for some visions of a militarized police force. But police call it a "rescue vehicle," and it actually is a customized Ford F-550 with bullet-resistant armor and windows. The armor is supposed to stand up to even high-caliber gunfire, and the underside of the car is built to withstand a bomb blast. The vehicle seats up to 12 people, including the driver.
It's the protection from bullets that, for police, was the key selling point, according to Sgt. Trent McKinley, a Lawrence Police Department spokesman. In action movies, police often duck behind their patrol cars to seek shelter from a hail of bullets, but that doesn't work so well in real life.
In the past, Lawrence police have tested out the effect of gunfire on the type of Crown Victoria patrol cars they traditionally used, and the cars did not stand up to the challenge. "The bullets go right through them," McKinley said. "We were told to do the best we could to keep the engine block between us and whoever was firing."
While such situations may still be thankfully rare in Lawrence, police often do serve search warrants on violent felons and deal with domestic disturbances that turn into armed standoffs, McKinley said. The department bought the vehicle to make police and victims safer on those occasions and to be prepared for worst-case scenarios that everyone hopes never happen.
Active shooters in schools or an a college campus, hostage crises and natural disasters were all on the list of situations where police would want to have a protective vehicle to rescue wounded people and approach dangerous areas. The city's grant application for the federal money also suggested that Kansas University might be an attractive target for terrorists, and the Lawrence Police Department would be among the first to respond if such an attack happened.
Several Kansas cities, like others around the country, have sought out armored vehicles, including Wichita, Salina, Junction City and Topeka.
In Topeka, police have been using a different model of armored car since 2009, and police officials call it invaluable. More intimidating than Lawrence's model, it is a black, tank-like machine with a gun turret on the roof. It sees frequent use in potentially violent police business in Topeka, Capt. Scott Conklin said, and he's glad his department has it.
"Even if you deploy it about 12 times a year, and you save one life over 10 years, what's the value?" Conklin said. "What's one life worth?"
The purchase of the armored vehicle for the Lawrence department is unrelated to the separate purchase, with city money, of a $58,604 custom van, McKinley said. That vehicle, which is on order, has no armor protection and is intended replace a 1998 Dodge that police have used to serve arrest warrants. The Dodge needed to be replaced because it increasingly failed to start when needed.
Copyright 2018 The Lawrence Journal-World. All rights reserved. This material may not be published, broadcast, rewritten or redistributed. We strive to uphold our values for every story published.