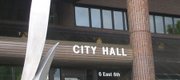 Subscribe to the email edition of Town Talk and we'll deliver you the latest city news and notes every weekday at noon.
News and notes from around town:
• The folks at Shawnee Mission Kia of Lawrence definitely are highlighting the Lawrence part of their name these days.
The company has begun work on a major expansion of its Lawrence showroom at 1225 E. 23rd St. Chin Rajapaksha, general manager and partner at the Kia dealership, told me the project will add 9,000 square feet of new space to the showroom.
"We're making a huge commitment to Lawrence," Rajapaksha said. "We're definitely going to make a name for ourselves in Lawrence."
The size of the expansion gives you a bit of an idea of how large the Kia brand can become in Lawrence. Currently, the dealership has offices for five sales people. The new building will grow that number to 13.
"Basically, we're setting this up to be a 300-cars-per-month store," Rajapaksha said. "Currently, we're at about 100 cars per month."
The new showroom also will have a children's area. Cool, maybe they'll take mine on trade. (Hey, cut me a break,. I've been on vacation with them for four days.) Also included in the project is an Internet cafe for guests, a new service drive, and, of course, more indoor space to display cars.
Construction work is underway on the project, and Rajapaksha hopes to be moved into the new space by the beginning of the year. Currently, the dealership has temporarily moved its offices into the building immediately west of the construction site.
• I don't believe it will be a Kia, but the Lawrence Police Department soon will be getting an armored vehicle. (Fifteen police officers charging out of an armored Kia, though, would give me reason to pause, if I were a criminal.)
The city has won a $152,500 Homeland Security grant from the federal government to purchase the vehicle. The grant covers the full cost of the vehicle, which means the city won't have to take any money from its budget to cover the cost. (They will have to fuel it though, and I don't know what type of gas mileage an armored vehicle gets. Probably about 10 miles per gallon better than the old F-150.)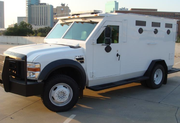 Police Chief Tarik Khatib previously has made the case for why the department needs an armored vehicle. In a new memo to city commissioners, Khatib reiterates that for a university community — which hosts many large events — to be without such a vehicle is a concern.
"A purposefully built vehicle which protects its occupants is a necessary component of any professionally equipped law enforcement agency; especially one that is responsible for safety and response in a large university city," Khatib wrote.
The armored vehicle is being billed as a "rescue vehicle" by the Police Department, which indicates it could be used in certain type of hostage scenarios, events that turn violent, or mayhem that you hope doesn't happen.
"Such a vehicle would increase the department's capability and officer safety in response to critical incidents involving active shooters, barricaded and armed individuals, and perimeter control out in the open," Khatib wrote.
In the past, when Khatib has made a case for the armored vehicle, a few folks have expressed concern that the vehicle would be a sign of a "militarization" of our police force. Well, for what it is worth, the new vehicle doesn't look anything like a tank. (It kind of looks like the old F-150 on steroids.) The vehicle doesn't have any type of permanent mounted weapon system, although it does look like it has several side openings and a roof hatch that will allow officers to fire weapons from inside the vehicle.
The department should receive the vehicle by early 2013. With this latest grant, the city now has received $465,000 in Homeland Security grants since 2004. Other items purchased with the grants include specialized crime scene and surveillance vehicles, forensic equipment, and ballistic vests, shields and respirators.
• I don't think I'll need an armored vehicle to get a parking spot for tonight's City Commission meeting. But I suppose you never know. Commissioners will be discussing a package of financial incentives for the multistory building projects at Ninth and New Hampshire streets.
As we reported last week, a couple of tweaks have been made to the proposed uses in the hotel building slated for the southeast corner of Ninth and New Hampshire. Mainly, the development group — which is led by Lawrence businessmen Doug Compton and Mike Treanor — are looking to replace the rooftop restaurant with three luxury condos and more hotel rooms. None of the changes impact the height or size of the building.
But since the time we reported on that letter, the development group also has sent another letter seeking a tweak in the financial incentives package of the project as well. The development group wants to clarify that the $695,000 that it is under contract to pay to purchase the land at the southeast corner is eligible for reimbursement through the tax increment financing district.
The group points out that state law allow the property and sales taxes captured through TIF districts to be used for the purchase of private development property. But city commissioners have never specifically discussed using TIF money for that type of purpose, so City Hall staff members are asking for direction.
To clarify, developers aren't asking for the overall maximum of TIF expenses — which is capped at $3.5 million for the hotel project — to be raised. Rather, they want to ensure they can submit the $695,000 in land cost to be reimbursed as part of that total.
Commissioners are expected to review a whole host of documents related to the TIF district, a special tax plan called a transportation development district, industrial revenue bonds and other miscellaneous items related to the development. Commissioners are not expected to take any formal action on the items tonight. That will come in future weeks.
In the meantime, that gives me more time to bulk up my old F-150 into an armored vehicle. No, I don't need it for any type of uses like the Police Department would. I need it to protect from my wife all my fabulous deals that I get at local auctions. If you don't believe me, ask me sometime about my recent $1 purchase of a used, portable, chemical toilet. (I know, can you believe it, it's portable.) Body armor would have come handy on that day.
Copyright 2018 The Lawrence Journal-World. All rights reserved. This material may not be published, broadcast, rewritten or redistributed. We strive to uphold our values for every story published.