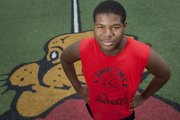 If Alex Jones had to guess, he would assume fewer students at his school know him by his given name than the nickname he first earned almost three years ago, when a hobby turned into an obsession.
Now a 6-foot-4, 280-pound senior and the Lawrence High football team's starting left tackle, Jones always has stood out because of his size, and his ninth-grade year at South Junior High was no different. When the biggest kid on campus started doing something out of the ordinary, people couldn't help but notice.
Before school, during lunch or at any other spare moment that provided an opportunity, Jones habitually toyed with his yo-yo, trying to mimic and perfect tricks he found online.
"It was just so fascinating," he said. "It just never got boring. I did it all the time."
Before long, classmates started calling him "Yo-yo."
The name traveled with him to LHS and caught on among the football team once Jones showed off some of his meticulously honed skills at the opening of a weight-room session the summer before his junior year. Football coach Dirk Wedd wandered in just as the workout was about to begin to find a mass of players hovering around Jones in the center of the room.
"What the hell's going on?" Wedd wondered, before spotting the toy attached to Jones. "What are you doing with a yo-yo?"
Then Jones put on a two-minute show, as his coach watched, dumbfounded, and teammates reveled in the spectacle.
"It's just one of those things," Jones said. "You get a little bit of interest in it, and you just go off with it."
He didn't initially have a similar fascination with the gridiron. Jones never thought as a fourth-grader who joined a football team to get more exercise that the sport would turn into such a prominent part of his life. He enjoyed the social opportunities that came with playing more than the game itself, but he stuck with it.
His LHS teammate and fellow senior, receiver and safety Kieran Severa, played with Jones on the Hurricanes youth team and said everyone knew Jones as a nice, funny kid, much as many do now. Jones' approach to the game is the biggest thing that has changed through the years.
"He didn't have as much of a drive to beat the kid across the line from him," Severa remembered.
Since then, Jones' assertiveness has grown with his interest in football. Senior lineman Kyle Wittman, another former Hurricanes teammate, said a transformation has taken place within Jones during the past year.
"He got unbelievably strong out of nowhere," Wittman said, adding while Jones never had been a bad player, things began to click for him on the field.
Wedd admitted that process didn't occur automatically. The coach said Jones wasn't ready to be a starter in 2012, but the staff, desperate for linemen, "threw him to the wolves." By the time the season ended with a second-round playoff loss, Jones showed no resemblance to the at-times-overwhelmed player he was in Week 1, and his understanding for the game continued growing in the off-season. Wedd said the lineman's size, footwork and ability to run make him a valuable member of the team.
"He's not there yet," the coach added, "but he's got a chance to be pretty special."
Jones played with a nervous energy last season, and he wants to analyze situations better this fall, now that he feels more adept to plan out his motions and execute them accordingly. He can even draw upon the experience of developing a yo-yo trick to help him figure out blocking techniques. The key in both scenarios, he said, is knowing the kind of maneuver or manipulation it takes to get to the next step.
"If you can recognize and read someone's motions and abilities, you might be able to know how to block them," Jones said. "Every person is unique."
Few would know that better than Jones, also a two-time state wrestling qualifier, whose enthrallment with his favorite toy helped him win an LHS talent show last year and finish seventh at the 2012 Kansas State Yo-Yo Contest. His other hobbies include cycling and longboarding.
Wedd intends for Jones to add defensive tackle to his repertoire. The coach said LHS needs the lineman to play with even more aggression and be a two-way player who can create havoc on defense, which would be a new role for Jones.
"It's his senior year," the coach said, "and he needs to make that next jump."
Jones had to laugh when comparing two vastly different pastimes, but he said the same stubbornness that kept him yo-yoing will make him a better football player.
"If you want to be good," he said, "you have to put a lot of time and a lot of hours into it."
Copyright 2018 The Lawrence Journal-World. All rights reserved. This material may not be published, broadcast, rewritten or redistributed. We strive to uphold our values for every story published.