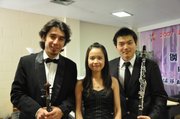 Three Kansas University students started the fall semester as a chamber music group assigned for a class and are ending the spring semester as national champions.
The Wakarusa Trio, comprised of clarinetist Puyin Bai, violist Shokhrukh Sadikov and pianist Kai Yin Crystal Lam, won the Chamber Music Performance division at the Music Teachers National Association National Competition during the MTNA's national conference March 9-13 in Anaheim, Calif.
The group's coach, Scott McBride Smith, piano division director and professor of piano at Kansas University, picked the students for the trio in August. He said that most chamber music trios are piano, violin and cello, so this combination of instruments is unusual.
The group practices with Smith once a week and has individual lessons with their major professor about twice a week. But the students had to work outside of class and lessons in order to be successful, and practiced as a trio two or three times every week.
"They're a very dedicated group of young people, and that's what it takes if you want to win," Smith said.
Before making it to the national competition in California, the group had to qualify.
The trio had to make it past the first round of state competition, which was held in November, and the second round of regional competition, which took place in January.
Next year the members of the trio are all returning and plan to continue to enter international competitions.
"Most groups that are successful stay together quite a long time," Smith said.
Copyright 2017 The Lawrence Journal-World. All rights reserved. This material may not be published, broadcast, rewritten or redistributed. We strive to uphold our values for every story published.