An early deficit and the absence of a top player couldn't stop Free State High's softball team from continuing its midseason dominance.
Without starting shortstop and Bradley signee A'Liyah Rogers, who is day-to-day because of a knee injury, the Firebirds still were able to produce plenty of offense in an 8-2 victory over Olathe North on Saturday at Free State.
Photo Gallery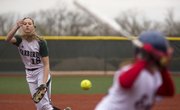 Olathe North vs. Free State softball
It was the Firebirds' 10th straight win.
"I'm just so proud of the kids," Free State coach Lee Ice said. "We show up every day. It doesn't matter who we play — we approach the game the same way."
FSHS (13-1) faced a rare deficit early after North scored two runs in the top of the second to take a 2-0 lead.
The Firebirds responded immediately. With two outs, Summer Frantz — Rogers' replacement in the lineup — lined a single to right to start the rally.
The next four Firebirds reached without a ball getting to the outfield: Kylie Cobb and Remington Samuels reached on errors, Emily Bermel ricocheted a hard-hit ball off pitcher Katie Usdansky, and Emily Byers blooped a popup that fell just in front of second base.
Whitney Rothwell knocked in the final run of the inning on a grounder up the middle to give FSHS a 4-2 lead.
"That's a really good team, and it was a team we needed to beat to just keep us going and keep our momentum going," Rothwell said. "Just coming out and fighting like we have been ... it means a lot."
FSHS tacked on single runs in the third and fourth before Meredith Morris came through with a bases-loaded, two-out double off the left-field wall in the sixth to make it 8-2.
Morris finished off her complete game in the circle the next half-inning. She allowed just two runs on eight hits with one walk and one strikeout.
"This team doesn't panic," Ice said. "That's the confidence they have."
Rothwell led Free State's offense, going 4-for-4 with a pair of RBIs. Bermel and Byers each added multi-hit games.
Free State will travel to play defending state-champion Olathe East on Tuesday.
Olathe North 020 000 0 — 2 9 5
Free State 041 102 X — 8 13 0
W — Meredith Morris, 9-0. L — Katie Usdansky.
2B — Meredith Morris, FSHS.
FSHS highlights — Whitney Rothwell 4-for-4, 2 RBIs; Meredith Morris 1-for-4, 2B, RBIs; Emily Byers 2-for-4, R, RBI; Emily Bermel 2-for-4, 2 R.
Copyright 2018 The Lawrence Journal-World. All rights reserved. This material may not be published, broadcast, rewritten or redistributed. We strive to uphold our values for every story published.