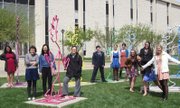 Education news
Have a story idea?
Contact Journal-World education reporter Elliot Hughes:
ehughes@ljworld.com
Two documentary films by local producers exploring critical turning points in history will be unveiled at a national event this summer.
What makes the films remarkable is not just their subject matter: Walt Disney's work producing World War II propaganda and the effect of the 1906 San Francisco earthquake on Chinese immigration in the United States.
What's more amazing is that they were produced by students at Lawrence High School. They will be screened at the National History Day contest at the University of Maryland in June, an event where a number of other area students also will be competing, including a group from LHS that produced a website exploring Genghis Khan's political and cultural legacy.
"We are truly proud of these students and their accomplishments," said Valerie Schrag, a history teacher at Lawrence High and one of the school's History Day sponsors.
The students — six from Lawrence High and one from Bishop Seabury Academy — earned the trips to the national contest by placing first or second in their categories at the Kansas History Day contest, held last Saturday, April 20, at Washburn University, in Topeka.
Disney war propaganda
Puja Shah, an LHS junior, won first place in the senior individual documentary category for her film "Mickey Mouse Goes to War: Walt Disney's Contributions to the War Effort," a film that explores the propaganda films and other artwork that the Disney movie studio produced during World War II.
It includes footage from cartoons such as "Donald Duck Joins Up," as well as other films the studio produced under contract with the military. It also includes an interview with Kansas University professor and World War II veteran Richard Schiefelbusch.
"I think the fact that he (Disney) even had propaganda in the first place was interesting because I didn't even know that side of the story, and I know a lot of other people don't," Shah said. "So I think understanding the other side of Disney that not many people know about (was interesting)."
San Francisco earthquake
LHS juniors Rose Kennedy and Sarah Kinder won second place in the senior group documentary category for their film "San Francisco Earthquake: Chinese Exclusion Falls through the Cracks."
The film explores how confusion created by the 1906 earthquake enabled many new immigrants to get around "exclusion" laws aimed at prohibiting most immigration from China and other East Asian nations.
"Exclusion laws were becoming extremely strict (in the early 1900s), and so once the earthquake hit, all of the documentation of residents was destroyed," Kinder said. "So Chinese immigrants were able to come into the country and claim relatives that were on the (U.S.) mainland."
The film includes many still photographs gathered from various libraries that were taken in the aftermath of the earthquake, as well as interviews with historians, including one who is a descendent of a Chinese-American survivor of the earthquake.
Chinggis (or Ghengis) Khaan
LHS seniors Elbegduuren Erdenee, Hazlett Henderson and Yu Kyung Lee collaborated on building a website, "Chinggis Khaan and Pax Mongolica."
"'Chinggis Khaan' is a more correct pronunciation; it's how Mongolians pronounce his name," said Erdenee, who is of Mongolian descent.
She said Khaan has been misunderstood by most residents of the Western Hemisphere, and the purpose of the website is to explore many of the profound effects he has had on Asian and European civilization.
"His military conquest is understandably emphasized more than his influence in other areas such as trade, which is what we focused on," she said. "Commercial exchanges between the Muslim west and the Chinese east, Korea, the Russian and Slavic countries to the north, and even to the Mogul empire in India."
Their entry won first place at the state contest in the senior group website category.
Also going to the National History Day contest will be Bishop Seabury sixth-grader Hilary Griggs, who won second place in the Junior Historical Paper category for her essay on the history and evolution of the stirrup.
"The stirrup opened doors for equine activity like no other invention in history," Hilary wrote in the paper she submitted to the state competition.
Schrag, the LHS history teacher, emphasized that all of the contestants are still modifying their projects in preparation for the national contest, and so the films, websites and other works are not yet publicly available.
"They don't want their competition to see what they have," she said.
Copyright 2018 The Lawrence Journal-World. All rights reserved. This material may not be published, broadcast, rewritten or redistributed. We strive to uphold our values for every story published.